Apps
Apple Will Now Let Any Teacher Publish Content to iTunes U - Liz Gannes - Mobile. Apple is upping its bid for its hot-selling iPad to be a teaching device, with an update today to its iTunes U app that allows any teacher to create a private course.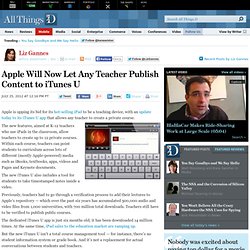 The new features, aimed at K-12 teachers who use iPads in the classroom, allow teachers to create up to 12 private courses. Within each course, teachers can point students to curriculum across lots of different (mostly Apple-powered) media such as iBooks, textbooks, apps, videos and Pages and Keynote documents. The new iTunes U also includes a tool for students to take timestamped notes inside a video. Previously, teachers had to go through a verification process to add their lectures to Apple's repository — which over the past six years has accumulated 500,000 audio and video files from 1,000 universities, with 700 million total downloads. Teachers still have to be verified to publish public courses. 48 iPad Apps That Teachers Love #FED_ebooks #Apps #ebook #teacher « First Edition Design eBook and POD Publishing.
Apple's iPad and other tablet computers have certainly been garnering ardent support from the edtech community.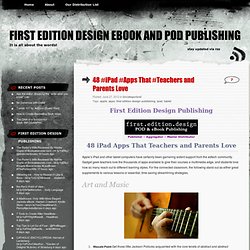 Gadget geek teachers love the thousands of apps available to give their courses a multimedia edge, and students love how so many reach out to different learning styles. For the connected classroom, the following stand out as either great supplements to various lessons or essential, time-saving streamlining strategies. Instructional Support Apps | Teacher Reviewed Educational Apps for 2012 | Reviews: Page 2 - We Are Teachers. The Educator's Guide to Instagram and Other Photo Apps.
I'm not the most dedicated Instagrammer (need to get out more) or the best photographer (wish I was) but like many other educators, I enjoy sharing my photos on Instagram.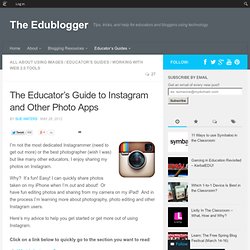 Why? It's fun! Easy! I can quickly share photos taken on my iPhone when I'm out and about! Or have fun editing photos and sharing from my camera on my iPad! Bloomin' Apps. This page gathers all of the Bloomin' Apps projects in one place.Each image has clickable hotspots and includes suggestions for iPad, Google, Android, and Web 2.0 applications to support each of the levels of Bloom's Revised Taxonomy.I have created a page to allow you to share your favorite Web 2.0, iOS, or Android app with others.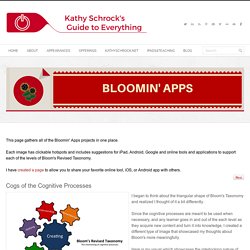 Cogs of the Cognitive Processes Option 1 I was recently reflecting on the triangular shape the Bloom's taxonomies utilize. Since the cognitive processes are meant to be used when necessary, and any learner goes up and down the categories as they create new knowledge, I was thinking another type of image might be more explanatory.Here is my draft of the idea of the "interlocking of the cognitive processes" or the "Cogs of Cognition". Three Ring | An App for Teachers to Create Educational Portfolios of Student Work with an iPhone, iPad, or Android Smartphone. Create Mobile Apps | Conduit Mobile. Snapguide. 24 Educational iPad Apps for Kids in Reading & Writing.
Review: My Top 5 Kanji iPhone Apps. The iPhone app store is chock full of every imaginable application but quantity doesn't always mean quality.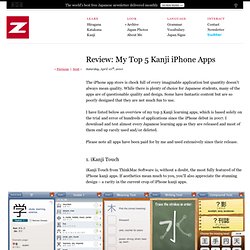 While there is plenty of choice for Japanese students, many of the apps are of questionable quality and design. Some have fantastic content but are so poorly designed that they are not much fun to use. I have listed below an overview of my top 5 Kanji learning apps, which is based solely on the trial and error of hundreds of applications since the iPhone debut in 2007. I download and test almost every Japanese learning app as they are released and most of them end up rarely used and/or deleted. 12 Keys to Finding Quality Education Apps. Millions of apps vie for educators' attention.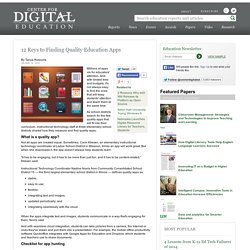 And with limited time and budgets, it's not always easy to find the ones that will keep students' attention and teach them at the same time. As school districts search for the few quality apps that will fit into their curriculum, instructional technology staff at three elementary school districts shared how they measure and find quality apps. What is a quality app? Not all apps are created equal. Apps to Use as Student ePortfolios. I have yet to find the perfect Digital Portfolio app that I think I would use exclusively in a Visual Arts class.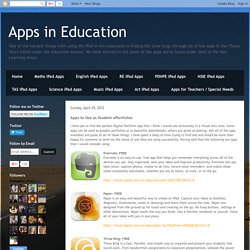 Some apps can be used as graphic portfolios or as beautiful sketchbooks, others are great at sharing. Not all of the apps available are great at all of these things. I have spent a heap of time trying to find one and would be more than happy for someone to send me the name of one they are using successfully. - Top 10 Sites for Educational Apps. 7 Comments January 6, 2012 By: Jan 5 Written by: 1/5/2012 4:22 PM ShareThis The wave of the future is here, especially for education.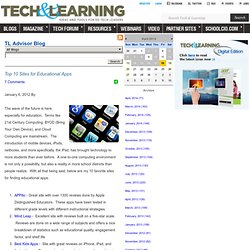 ---