Greenhouse
geo-dome prefab geodesic domes
Greenhouses for sale - specials and discounts on home greenhouses and community gardens | The Hub - Greenhouse Gardening Blog
What do you do when you want to grow your own food, but live here? That's the question my dad wanted to answer when he started this project about a year ago: Living at 7,750 feet above sea level, with a summer growing season of 80 days, at best, between killing freezes, how can you grow your own food?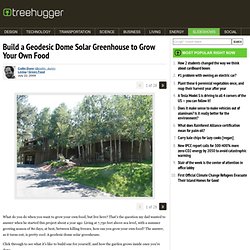 Build a Geodesic Dome Solar Greenhouse to Grow Your Own Food
Small greenhouses kits - small greenhouses for sale
Dome Home Directory - Geodesic Dome Home Plans, Kits, Builders
Biodome Revolution
WARNING: Creating your own green-house dome is extremely dangerous, because you are in danger of becoming FREE for life from the food industry... "How To Create Your Own Geodesic Dome Green House And Have Your Own 'Organic Food Factory' Providing You and Your Family With Incredible Food, Year Round, Even In The Dead of Winter !" It's Easy To Create a Massive Geodesic Dome Which Produces Food For You And Your Family Non-Stop . You Don't Need Any Special Skills, It's Extremely Cheap , And I'll Show You Exactly How To Do It, Step-by-Step...