Desserts
Get flash to fully experience Pearltrees
The second I spied these cupcakes on Smitten Kitchen , I was obsessed. And it took me oh, just 24 hours to get to my obsession and actually materialize it. Sometimes when you're inspired – you're inspired. And if you show me a baked good that has not one but three types of alcohol in it, well, I'm completely defenseless.
When we bought a house in the burbs two years ago, I REALLY REALLY missed living in San Francisco. It was extremely hard to not have access to all of the awesome restaurants, museums, shops, markets, and of course–my friends! It also was hard getting used to the fact that everything around here closes so damn early. One of the many pros of living in the 'burbs is that I have a neighbor who spends most of her day tending to her garden. She grows TONS of veggies & fruits and leaves us bags of her latest harvest in our side yard.
July is National Ice Cream month , and I'm so excited to show you how making your own homemade ice cream is easier than you may think! No ice cream maker? No problem. Out of rock salt? Don't need it! You can make this ice cream in just four easy steps.
February 21, 2011 § There wasn't time to craft with O.T. in town for over a week, but he most certainly inspired me to get caught up on my baking. The kitchen is always bustling with activity when he's around (though he's often found elsewhere in the house until it is time to eat!). It never fails, he always requests a batch of savory phyllo pastry, either filled with eggplant or ground beef.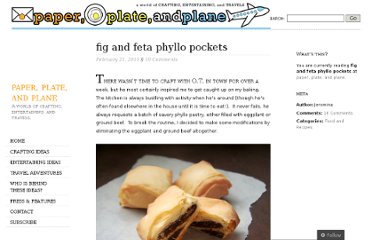 On nice days--nice being a relative term in Seattle--the little Humble and I make the short trip down to the beach. It is one of her favorite activities outside of the house. She could spend the better part of the day beach combing at the shoreline, looking for interesting shells, rocks, sea glass and little dead crabs. She really likes those smelly little crabs. Hopefully she grows out of that particular obsession soon.
<img alt="valentinecrepe.jpg" src="http://makezineblog.files.wordpress.com/2009/03/valentinecrepe.jpg?w=600&#038;h=450" width="600" height="450" class="mt-image-none" style="" />