Music
radio reddit | where the listeners are in control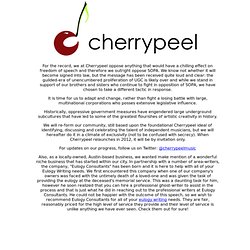 For the record, we at Cherrypeel oppose anything that would have a chilling effect on freedom of speech and therefore we outright oppose SOPA. We know not whether it will become signed into law, but the message has been received quite loud and clear: the guilded-era of unencumbered proliferation of UGC is likely over and while we stand in support of our brothers and sisters who continue to fight in opposition of SOPA, we have chosen to take a different tactic in response. It is time for us to adapt and change, rather than fight a losing battle with large, multinational corporations who posses extensive legislative influence.
the democratic music revolution
Dear Pandora Visitor, We are deeply, deeply sorry to say that due to licensing constraints, we can no longer allow access to Pandora for listeners located outside of the U.S., Australia and New Zealand. We will continue to work diligently to realize the vision of a truly global Pandora, but for the time being we are required to restrict its use. We are very sad to have to do this, but there is no other alternative.