Vie ecclésiale
Portail. Le monde vu de Rome. English Prime Minister Sparks Debate Over 'Christian Britain' Archbishop of Canterbury Defends David Cameron London, (Zenit.org) | 9 hits England's prime minister, David Cameron, triggered a debate last week when he spoke of Britain as a Christian nation.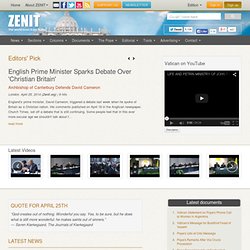 His comments published on April 16 in the Anglican newspaper, Church Times, set off a debate that is still continuing. Some people feel that in this ever more secular age we shouldn't talk about f... Est un service d'information catholique totalement gratuit, aux télévisions catholiques, sites web catholiques et radios catholiques. - CETADNET - Centre d'Enseignement de Théologie A Distance. Cetad.net propose des formations Internet, sur la foi chrétienne.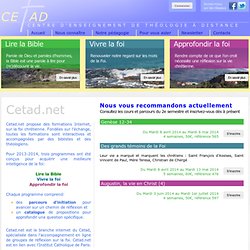 Fondées sur l'échange, toutes les formations sont interactives et accompagnées par des biblistes et des théologiens. Pour 2013-2014, trois programmes ont été conçus pour acquérir une meilleure intelligence de la foi: COMECE. Le Saint-Siège.
---