Vie ecclésiale
Pro-life Movie in Theaters Tonight President of Pontifical Academy for Life Says Film Is 'Remarkable Narrative' New York, (Zenit.org) | 378 hits Pro-life championKathy DiFiore has had a life filled with redemption and hope. A suburban wife and mother, she escaped an abusive marriage only to find herself homeless and on the street. She focused on saying the prayer of St.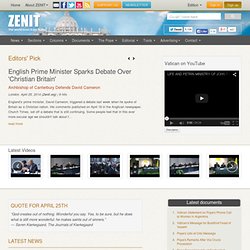 est un service d'information catholique totalement gratuit, aux télévisions catholiques, sites web catholiques et radios catholiques.
Cetad.net propose des formations Internet, sur la foi chrétienne. Fondées sur l'échange, toutes les formations sont interactives et accompagnées par des biblistes et des théologiens. Pour 2013-2014, trois programmes ont été conçus pour acquérir une meilleure intelligence de la foi: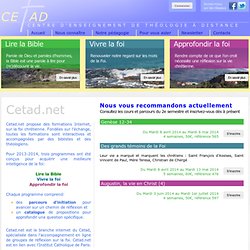 - CETADNET - Centre d'Enseignement de Théologie A Distance
13 November 2013, 19:00 @ Chapel for Europe Europe is a continent on the move. Internal migration and migration from outside, not least in pursuit of political asylum, has impacted on the lives of all communities within all Member States and communities of the EU. The migrant is our neighbor. In order that they feel at home within the European family we need to understand the EU from their perspective.
COMECE