Spices
Carrot Cake Cookies with Cream Cheese Filling - Weekend Baking » Strands of My Life. The best Chewy Apricot Almond Oatmeal Cookies! These cookies have everything in them.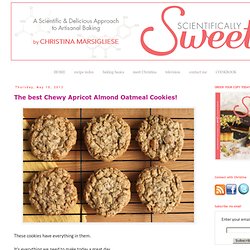 It's everything we need to make today a great day. Honey, brown sugar, rolled oats, toasted almonds, sunflower seeds, flax, cinnamon and fruit. It totally screeeeeaaams BREAKFAST! To me these are the best Chewy Apricot Almond Oatmeal Cookies for real! Oh...and ya...there's butter. Mis-Cakes Oven Adventures. I have been wanting the Joy the Baker cookbook since before it even came out.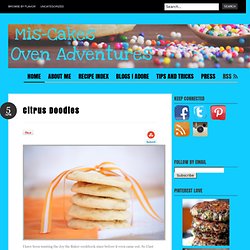 So I last week I ordered it. The only problem is that it's a gift. I had to look through it though. Ya know incase there was a page missing or aliens has changed the writing. Peppermint Snickerdoodles | Is it too early to start talking Christmas?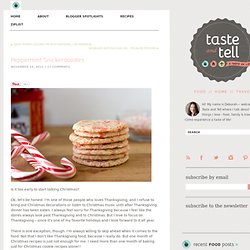 Ok, let's be honest. I'm one of those people who loves Thanksgiving, and I refuse to bring out Christmas decorations or listen to Christmas music until after Thanksgiving dinner has been eaten. I always feel sorry for Thanksgiving because I feel like the stores always look past Thanksgiving and to Christmas. Healthy and Gluten-Free Cinnamon Persimmon Cookies (Only 4 Ingredients!) Persimmons are amazing.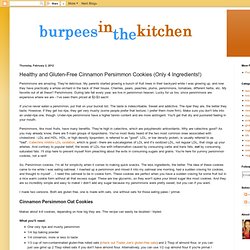 They're delicious. My parents started growing a bunch of fruit trees in their backyard while I was growing up, and now they have practically a whole orchard in the back of their house. Cherries, pears, peaches, plums, persimmons, tomatoes, different herbs, etc. My favorite out of all these? Happy Chinese New Year! Today we celebrate the Chinese New Year: 新年快乐!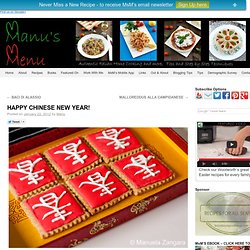 I am not Chinese, nor do I have Chinese relatives, but I live in a city with a huge Chinese community, so I feel it is the right thing to celebrate this special day. To do so, I made some special sugar cookies… they are eggless and have a pinch of Chinese 5 spice in the dough, just to stay on topic. You can find the basic recipe for Eggless Sugar Cookies here. I wrote the word "spring" on the cookies (since the New Year symbolises the arrival of spring) and I served them upside down as apparently the character for "upside down" in Chinese sounds the same as the character for "arrival"… so… spring has arrived!
A Little Bit Crunchy A Little Bit Rock and Roll: Cinnamon Roll Cookies. While my kids were playing outside the other day, it dawned on me: I have three children who can independently zipper coats, put on snow pants, boots, mittens, hats, and scarves WITHOUT MY HELP.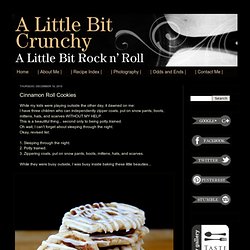 This is a beautiful thing... second only to being potty trained. Oh wait, I can't forget about sleeping through the night. Okay, revised list: 1. Pumpkin Snickerdoodles (dairy, egg, gluten and sugar-free options) Today's guest post comes from Adrienne from the lovely blog, Whole New Mom.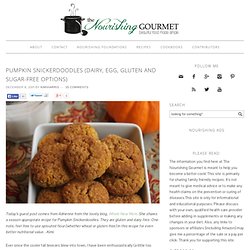 She shares a season appropriate recipe for Pumpkin Snickerdoodles. They are gluten and dairy-free. One note, feel free to use sprouted flour (whether wheat or gluten-free) in this recipe for even better nutritional value. 84th&3rd | Not your ordinary Gingerbread… and oh, I'm famous… Oooh, what a mysterious title.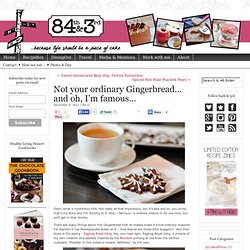 Not really all that mysterious, but it's late and so, you know, that's my story and I'm sticking to it. Also, ~famous~ is entirely relative in its use here, but we'll get to that shortly. There are many things about this Gingerbread that do indeed make it extra-ordinary however. For starters it has Pomegranate seeds on it – how festive are those little buggers?! And then there is the piping – Eggnog Royal Icing.
Whole grain carrot cake whoopie pies. Usually, the desserts for these Sweet Saturday posts are made the weekend before the post actually goes up.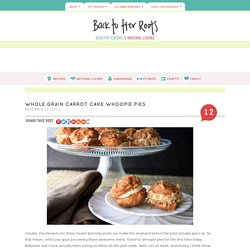 So that means, while you guys are seeing these awesome, moist, flavorful whoopie pies for the first time today. Babyface and I have actually been eating on these all this past week. Well, not all week, technically. I think these suckers were gone by Wednesday. They were so good we couldn't make 'em stretch out. Gingerbreads Heads. The season of giving will be upon us in just a few short days.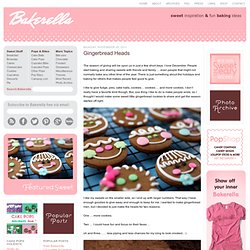 I love December. People start baking and sharing sweets with friends and family … even people that might not normally bake any other time of the year. There is just something about the holidays and baking for others that makes people feel good to give. I like to give fudge, pies, cake balls, cookies… cookies … and more cookies.
---