Desserts
Some foods just go together. Grilled cheese and tomato soup, creamed butter and sugar, garlic and caramelized onions… for me, I'm addicted to raspberry and lemon. So when I saw these bars last year, I knew I had to make them. A little less than a year later and I finally made the recipe. Tangy, vibrant, subtly sweet with a rich, buttery crust.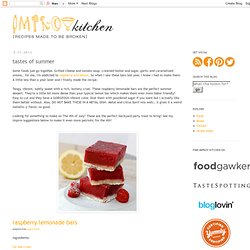 Raw + Vegan Nanaimo Bars
I woke up yesterday craving Nanaimo bars – a dessert usually reserved for Christmas. But with the hubby gone to London, a day of absolutely no plans, and a craving for chocolate, I decided to just go for it. As we've learned from similar experiences in the past, I love my chocolate treats on the weekend and this was no different. I figure, if you adjust a dense, high sugar Christmas dessert recipe into a light, raw and vegan treat, you've transformed the dessert into something that can be enjoyed year round.
Cinnamon Twists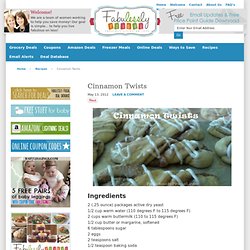 Welcome to Fabulessly Frugal!
White Chocolate Stuffed Orange Sesame Cream Puffs
It is getting hotter by the day, and most days I am wishing to be soaked in the pool the whole day.. Ah.. that would be complete bliss.. Well, not having that kind of luxury, I make do with refreshing watermelon mint cooler by the poolside.
Watermelon Mint Cooler & Granita | Just As Delish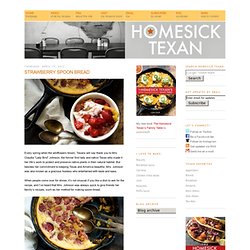 Every spring when the wildflowers bloom, Texans will say thank you to Mrs.
Strawberry spoon bread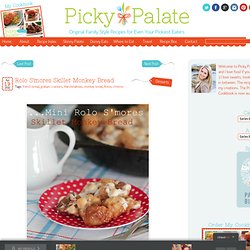 I fully admit that I have sampled my fair share of desserts of all kinds. It's one of my favorite parts of being a food blogger. With as many desserts that I have tried, this recipe creation blew my mind! This ooey gooey s'mores style monkey bread will go down in history in our house and I will be making it time and time again.
Rolo S'mores Skillet Monkey Bread
Cake for Any Occasion
I never had the opportunity to meet my Grandmother Irene. She died before I was born, fighting a cancer that eventually took her life. She was a strong woman, raising my mother and her two sons on a farm in small town America. There are a few anecdotes my mother likes to share with my sister and me, both humorous and sad, so we can hope to know her too, if only in a small way. Though I never had the chance to meet my grandmother, I feel as if I have gotten to know her most through her cooking. Over the years, my mother has shared her recipes with me, whether it was a meal she served on our dining room table, stories about the food she created, or a recipe card handwritten by her mother.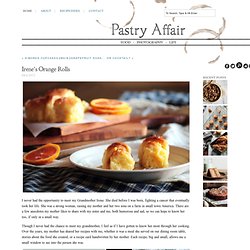 Irene's Orange Rolls
Brownie Batter / Chocolate Cookie Dough
If you've been following Sally's Baking Addiction since the beginning, you may remember my peanut butter banana oatmeal bars. They are, without a doubt, my FAVORITE healthy snack recipe ever. I played around with the recipe a bit and added some chocolate. Because everything is better with chocolate, no?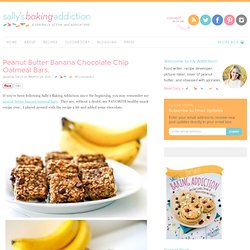 peanut butter banana chocolate chip oatmeal bars – sally's baking addiction
pudding/ trifles/ parfits
I love watching the reaction of my boys sampling my baked goods. I gave them a bite after school a couple days ago of this sheet cake and their expression was priceless. If I left the room, I am afraid the entire plate would have been devoured. This recipe is that good my friends In fact, it will be making an appearance for Thanksgiving and probably Christmas for sure! Don't let the cake mix in the recipe scare you away.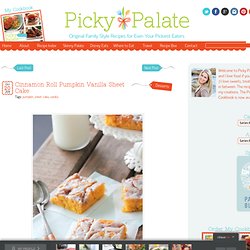 Sometimes you want something quick, sweet and easy without firing up the oven. Especially here at the moment, where the temperature is hitting 40 degrees Celsius. Eww. I know Australians are supposed to be excited by that and go frolicking on the beach, but I hate the heat outdoors.
No-bake Lemon Coconut Slice | The Cake Mistress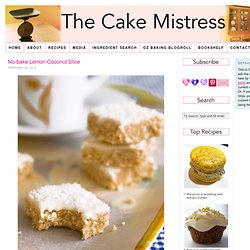 Y'all knew this was coming, right? At least those of you on Facebook. See, I had something completely different planned, and then I spent a Saturday night alone at Walmart (which, I realize sounds super pathetic, but in reality was super awesome. If I didn't need groceries, I would have wandered Target alone on a Saturday night, which would have been even more super awesome, but hey- I'll take what I can get) and that's when I spotted these: And it took about 2.7 seconds for them to make their way from the shelf to my cart.
Peppermint Bark Rice Krispie Treats
Roasted Pineapple Tamales with Riesling Poached Raisins
Around this time four years ago, my roommate brought home a plastic bag brimming with husk-wrapped tamales prepared earlier that day by his family. I remember being overly excited because I had never had tamales before. I eagerly unwrapped my first tamal unaware of what I was going to find inside. Nestled inside the corn husk was the most amazing shredded pork encased in tender corn masa. After one bite, I was addicted.
Recipe: chinese sweet soup (tian tang) Chinese new year is coming up this Monday, January 23 (2012). It will be the year of the Dragon, which makes me chuckle because my dad is a dragon and he likes to tell everyone that he's a dragon.
chinese tian tang sweet soup recipe
Sweet Cinnamon Roasted Chickpeas
I am so much hooked to Pinterest these days, its a great place to pin and categorize all things which we like. There are great resources out there ranging from photography to yum recipes, and I am loving it. I came across this recipe in Pinterest which is from The Pastry Affair and I knew that this is one of the recipe which is easy to make, healthy and quite addictive. Apart from the baking time, this requires just a few minutes of assembling.