Cake
Chocolate Cookie Cake Recipe. This is one of my husband's favorite cakes.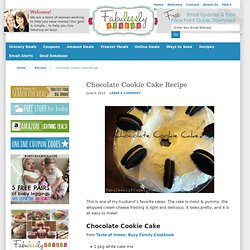 The cake is moist & yummy, the whipped cream cheese frosting is light and delicious, it looks pretty, and it is all easy to make! Chocolate Cookie Cake from Taste of Home: Busy Family Cookbook 1 pkg white cake mix16 cream-filled sandwich cookies, coarsely crushed Nabisco Coupons1 pkg cream cheese (3 oz), softened Cream Cheese Coupons2 Tbsp milk Milk Coupons2 c heavy whipping cream3/4 c confectioners' sugaradditional cookies for garnish Prepare cake batter according to pkg directions (or make it a little better with the trick below). Vanilla Bean Pound Cakes. Eat Skinny: Light Peanut Butter Cake, y'all! Although I like to pretend I"m from the South (3 years counts, right, right?!)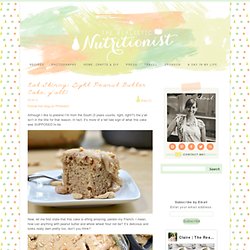 The y'all isn't in the title for that reason. In fact, it's more of a tell tale sign of what this cake was SUPPOSED to be. Now, let me first state that this cake is effing amazing, pardon my French. I mean, how can anything with peanut butter and whole wheat flour not be?
Chocholay. Fruit. Cupcakes. Judi's Grasshopper Cake. This cake has happy childhood memories written all over it.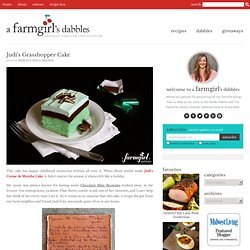 When Mom would make Judi's Creme de Menthe Cake, it didn't matter the season, it always felt like a holiday. My mom was always known for having some Chocolate Mint Brownies stashed away in the freezer. For emergencies, ya know. That flavor combo is still one of her favorites, and I can't help but think of her every time I see it. So it comes as no surprise that this cake, a recipe she got from our farm neighbor and friend, Judi Fritz, was made quite often at our house. Green Velvet Cheesecake Cake. Cheesecake: Two 8-ounce packages cream cheese, at room temperature 2/3 cup granulated white sugar pinch of salt 2 large eggs 1/3 cup sour cream 1/3 cup heavy whipping cream 1 teaspoon vanilla extract a few drops of green food coloring, if desired Green Velvet Cake: 2 1/2 cups all-purpose flour 2 tablespoons cocoa powder 1/2 teaspoon salt 1 1/2 cups canola or vegetable oil 1 1/2 cups granulated white sugar 2 large eggs 1 teaspoon vanilla extract 1 teaspoon white vinegar 1 teaspoon baking soda 1 cup buttermilk 2 tablespoons (1-ounce bottle) green food coloring Frosting: Two 8-ounce packages cream cheese, at room temperature 1/2 cup unsalted butter, at room temperature One 7-ounce jar marshmallow creme 1 cup powdered sugar a few drops of green food coloring, if desired 1.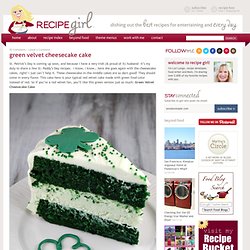 Prepare the cheesecake layer: Preheat the oven to 325dgF. Lighter King Cake recipe. Mardi Gras kicks off next week, so it's time to grab your beads, stock up on hurricane mixes and get all your ingredients to make a sinfully delicious king cake!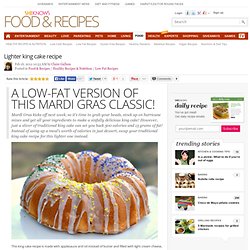 However, just a sliver of traditional king cake can set you back 500 calories and 15 grams of fat! Instead of using up a meal's worth of calories in just dessert, swap your traditional king cake recipe for this lighter one instead. This king cake recipe is made with applesauce and oil instead of butter and filled with light cream cheese, so this moist, flavorful cake only tastes indulgent! Plus, the addition of flakey coconut in the filling gives this cake an almost tropical flavor.
---