Jquery plugins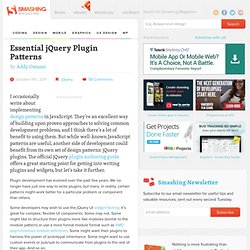 I occasionally write about implementing design patterns in JavaScript.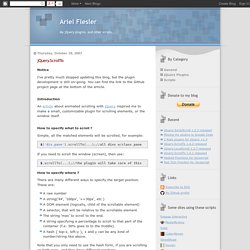 Introduction An article about animated scrolling with jQuery inspired me to make a small, customizable plugin for scrolling elements, or the window itself.
jQuery.ScrollTo by Ariel Flesler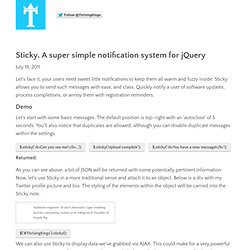 Sticky - An unbelievably simple notification system for jQuery
July 19, 2011 This has been deprecated and is no longer being supported Let's face it, your users need sweet little notifications to keep them all warm and fuzzy inside. Sticky allows you to send such messages with ease, and class. Quickly notify a user of software updates, process completions, or annoy them with registration reminders. Demo
jQuery PointPoint Plugin
addyosmani/jquery-plugin-patterns - GitHub
MobilyMap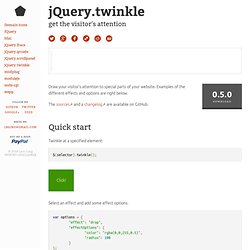 Draw your visitor's attention to special parts of your website. Examples of the different effects and options are right below. The sources and a changelog are available on GitHub.
jQuery.fracs determines some fractions for an HTML element (visible fraction, fraction of the viewport, ...) and also provides the coordinates of these areas.
jQuery.fracs · larsjung.de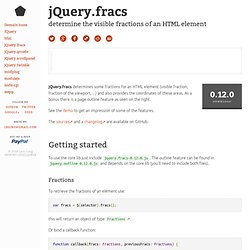 Image Desaturate jQuery plugin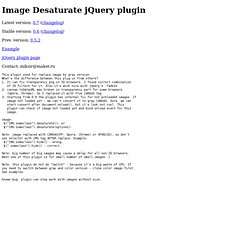 Latest version: 0.7 ( changelog )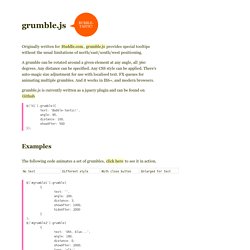 Originally written for Huddle.com , grumble.js provides special tooltips without the usual limitations of north/east/south/west positioning.
Chosen is a JavaScript plugin that makes long, unwieldy select boxes much more user-friendly. It is currently available in both jQuery and Prototype flavors. Project page on GitHub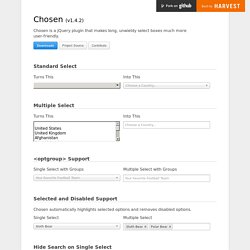 Aspect ratio with preview pane.
Jcrop Image Cropping Demos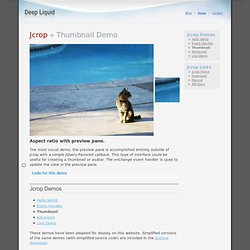 $.geo is an open-source, geospatial mapping jQuery plugin from Applied Geographics developed with the intention of making spatial web mapping significantly simpler than it may initially seem.
$.geo docs
Introduction · Isotope Docs
Isotope: An exquisite jQuery plugin for magical layouts