Robotic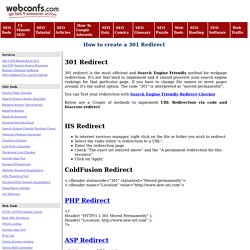 301 Redirect 301 redirect is the most efficient and Search Engine Friendly method for webpage redirection. It's not that hard to implement and it should preserve your search engine rankings for that particular page. As SEOs, we are interested in the most influential factors in commercial web search results. Accordingly, we have been conducting ongoing studies looking at the relationship between web search results and link metrics/anchor text from Linkscape, social media signals from Facebook and Twitter, and on-page/URL/domain keyword factors. This document explains our methods, including the construction of the data set and statistical analysis. It is structured as follows: the following section includes some details on the dataset itself, from the choice of the keyword list to data sources and feature extraction.The last section describes our statistical analysis methods.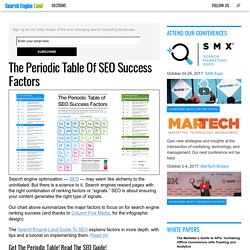 Search engine optimization — SEO — may seem like alchemy to the uninitiated. But there is a science to it. Search engines reward pages with the right combination of ranking factors, or "signals."
On Page SEO Guidelines and Tips | Azure Web Design
On Page SEO is the process of optimizing your HTML pages for the search engines' perusal. It is by no means an exact science, but Google and all the other search engines have published guidelines for us to follow to better rankings. Server and File Settings Make sure that there is only one version of your site – 301 redirect all non www. URLs to the www. ones or vice versa.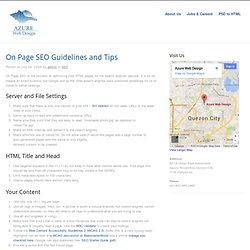 Web Content Accessibility Guidelines (WCAG) 2.0 is the Bible of web developers who are responsible for HTML templating and independent content authors who are eager to reach the biggest audience possible. However, if you think that's just for the sake of that, accessibility, think again. WCAG is way more than just accessibility, it's also the technical part of on-page SEO – leveraging the most out of HTML and make your web pages full of meaningful structures serving as containers of keywords.
The Ultimate On-page SEO Checklist – Better SEO, Semantics and Accessibility at The Same Time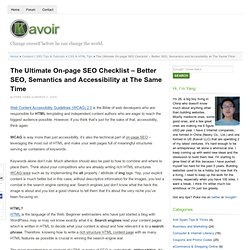 How to Create Robots.txt Files Use our Robots.txt generator to create a robots.txt file. Analyze Your Robots.txt File Use our Robots.txt analyzer to analyze your robots.txt file today.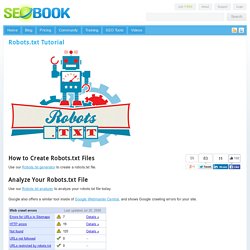 Robots.txt Tutorial
How Do I Build the Perfectly Optimized Page? If you're in SEO, you probably hear this question a lot. Sadly, there's no cut and dry answer, but there are sets of best practices we can draw from and sharpen to help get close. In this blog post, I'm going to share our top recommendations for achieving on-page, keyword-targeting "perfection," or, at least, close to it.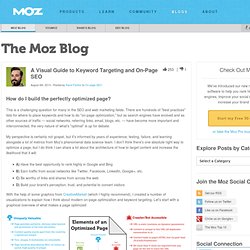 On Page SEO Guidelines and Tips | Azure Web Design