Irrisistable Mac Software
Pure Mac: Software for Macintosh. Password and Encryption. VLC media player, the Open Source video framework! Writing Software. Reference Managers. CleanMyMac: Best Mac Cleaner App for Mac OS X. Clean My Mac | MacPaw. AirPlay Simulators for Older Macs. Poorly anonymized logs reveal NYC cab drivers' detailed whereabouts. In the latest gaffe to demonstrate the privacy perils of anonymized data, New York City officials have inadvertently revealed the detailed comings and goings of individual taxi drivers over more than 173 million trips.
City officials released the data in response to a public records request and specifically obscured the drivers' hack license numbers and medallion numbers. Rather than including those numbers in plaintext, the 20 gigabyte file contained one-way cryptographic hashes using the MD5 algorithm. Instead of a record showing medallion number 9Y99 or hack number 5296319, for example, those numbers were converted to 71b9c3f3ee5efb81ca05e9b90c91c88f and 98c2b1aeb8d40ff826c6f1580a600853, respectively. Because they're one-way hashes, they can't be mathematically converted back into their original values. Mactracker - Get Info on any Mac. Cyberduck – FTP, SFTP, WebDAV, Cloud Files, Google Drive & Amazon S3 Browser for Mac & Windows.
Growl. Hiss - Growl to Notification Center. Perian - The swiss-army knife of QuickTime® components. Little Snitch. A firewall protects your computer against unwanted guests from the Internet.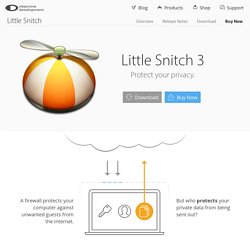 But who protects your private data from being sent out? Little Snitch does! Protect your privacy Network Monitoring Redefined Take a look under the hood to see at a glance who talks to whom. Mac Gems: Little Snitch snitches on misbehaving apps. Our Macs can be chatty even when we wish they weren't.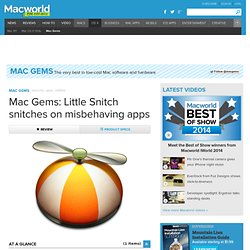 Apps, and even the OS itself, regularly reach out to the rest of your local network and to the Internet to probe, query, and blab. Little Snitch 3 intercepts these requests and presents them to you for inspection and approval. The latest update to the software adds inbound-connection management, too.
---