Technology Transporter
Computers and hardware posts - How To. Facebook, Zuckerberg sued over IPO | Internet & Media. Last updated: 1:49 p.m.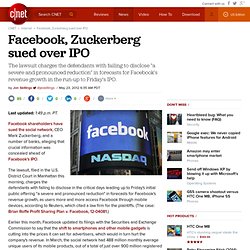 PT. Facebook shareholders have sued the social network, CEO Mark Zuckerberg, and a number of banks, alleging that crucial information was concealed ahead of Facebook's IPO. The lawsuit, filed in the U.S. District Court in Manhattan this morning, charges the defendants with failing to disclose in the critical days leading up to Friday's initial public offering "a severe and pronounced reduction" in forecasts for Facebook's revenue growth, as users more and more access Facebook through mobile devices, according to Reuters, which cited a law firm for the plaintiffs.
Surprise! OS X Mountain Lion Roars Into Existence (For Developers Today, Everyone This Summer) Confirmed: Apple can still surprise.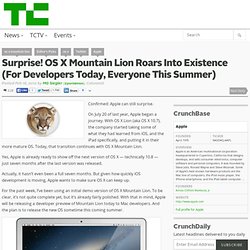 On July 20 of last year, Apple began a journey. With OS X Lion (aka OS X 10.7), the company started taking some of what they had learned from iOS, and the iPad specifically, and putting it in their more mature OS. Today, that transition continues with OS X Mountain Lion. Yes, Apple is already ready to show off the next version of OS X — technically 10.8 — just seven months after the last version was released.
Actually, it hasn't even been a full seven months. Podcast Software List - Many Platforms Including Windows, Macintosh and Linux. A list by Scott Clark Used by hundreds of websites providing help to podcast listeners.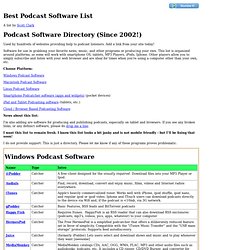 Add a link from your site today! Software for use in grabbing your favorite news, music, and other programs or producing your own. This list is organized around platforms, so some will work with smartphone OS, tablets, MP3 Players, iPods, Iphone.
Hewlett Packard
CES. Vizio – Partnership & Collaboration. Vizio has some quite amazing, technology emerging onto the scene's today.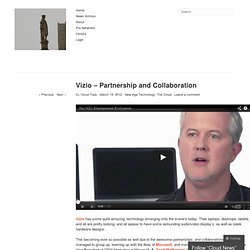 Their laptops, desktops, tablets and all are pretty looking, and all appear to have some astounding audio/video display's, as well as sleek hardware designs. This becoming ever so possible as well due to the awesome partnerships, and collaborations they have managed to group up, teaming up with the likes of Microsoft, and many others. Just listen to, Nick Parker Vice President of OEM Marketing at Microsoft, & Scott McManigal Vice President & Senior Director of Design, at Vizio, as they tell the tale for the all new Vizio Entertainment Ecosystem.
Like this: Like Loading...
CA Technologies. Flipboard new version brings Instagram and other goodies. The Web fights back against Flipboard. The story behind Storify, new real-time curation service. A new face to entrepreneurship: NewMe accelerator (15 cool new startups) Free Home Design Software and Interior Design Software - Autodesk Homestyler. More Air | English + Japanese Digital Studio | London | Web & Mobile Design. Windows Live Essentials: Other Programs - Get started. Adaptive Images in HTML. Home / QuirkTools / Online Tools for Creative People. Sean Suchter. Windows 8: touch vs. keyboard and mouse navigation (hands-on video) Microsoft has greatly improved its keyboard and mouse support for the Metro style Start Screen in Windows 8 Consumer Preview.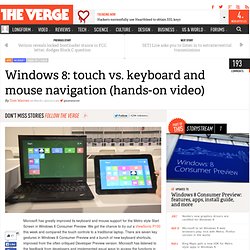 We got the chance to try out a ViewSonic P100 this week and compared the touch controls to a traditional laptop. There are seven key gestures in Windows 8 Consumer Preview and a bunch of new keyboard shortcuts, improved from the often critiqued Developer Preview version.
Your files online. Inktomi. Cool Websites: Awesome Webcam Games « « Tinkernut.com Tinkernut. Posted on May 5, 2010 By admin With 11 comments Cool Websites: Awesome Webcam Games [cp_youtube id="iRH2ny9qsFc" points="15"] Use your webcam to play free online games using only your body as the controller.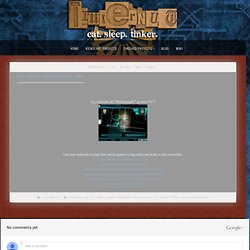 Cool Websites augmented, cam, free, games, Gaming, interactive, online, reality, tips, tricks, tutorial, virtual, web, webcam Hazard says: April 30, 2011 at 2:52 pm Interesting article. Microsoft's final CES keynote and what it means for Kinect. It's official: Microsoft Kinect for Windows goes live on February 1.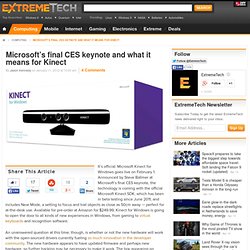 Announced by Steve Ballmer at Microsoft's final CES keynote, the technology is coming with the official Microsoft Kinect SDK, which has been in beta testing since June 2011, and includes Near Mode, a setting to focus and trail objects as close as 50cm away — perfect for at-the-desk use. Available for pre-order at Amazon for $249.99, Kinect for Windows is going to open the door to all kinds of new experiences in Windows, from gaming to virtual keyboards and recognition software. An unanswered question at this time, though, is whether or not the new hardware will work with the open-sourced drivers currently fueling so much innovation in the developer community. Autodesk Labs. Embed a 3D wall of photos & videos on your site. Posting a 3D wall on your site is as easy as 1-2-3.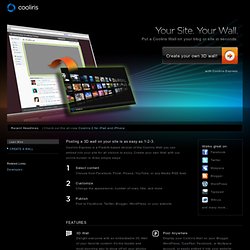 Cooliris Express is a Flash®-based version of the Cooliris Wall you can embed into your site for all visitors to enjoy. Create your own Wall with our online builder in three simple steps: Select content. MAKE: technology on your time - Make Faire Bay Area 2012 May 19th & 20th. BBC World Service - Ways to Listen. You can listen to BBC Radio using BBC iPlayer Radio through your computer, your mobile phone or some tablet devices.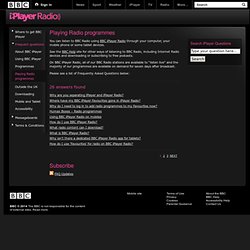 See the BBC Help site for other ways of listening to BBC Radio, including Internet Radio devices and downloading or subscribing to free podcasts. On BBC iPlayer Radio, all of our BBC Radio stations are available to "listen live" and the majority of our programmes are available on demand for seven days after broadcast. Please see a list of Frequently Asked Questions below: Tech.
---