News
Latest news, sport and comment from the Guardian
The Onion - America's Finest News Source
The Daily Beast
National Geographic Image Collection Book: Preview the New Photo Book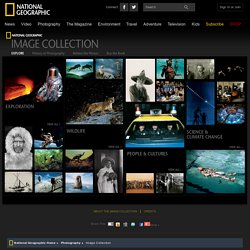 An unparalleled treasury of iconic images and groundbreaking photography, the National Geographic Image Collection gathers together more than 11 million images chronicling the world from the end of the 19th century to the first decade of the 21st. The 450 selections in the new National Geographic Image Collection book, many never before published, represent the finest of the archive. See many of these selections—and get a glimpse into the archive itself—in this new Image Collection photo gallery and video. Plus, flip through the history of photography, from daguerreotypes to digital, in an all-new interactive time line.
Techmeme
MobileMini Mediagazer memeorandum
Science Daily: News & Articles in Science, Health, Environment & Technology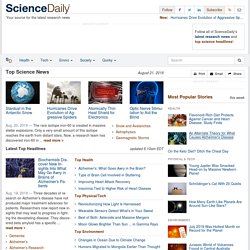 Megafloods: What They Leave Behind South-central Idaho and the surface of Mars have an interesting geological feature in common: amphitheater-headed canyons. Researchers offer a plausible account that all these canyons were created by enormous floods. ... > full story Image Perception in the Blink of an Eye Imagine seeing a dozen pictures flash by in a fraction of a second.
Big Think | Blogs, Articles and Videos from the World's Top Thinkers and Leaders
Today's Big Idea What's the secret to good health? It's no longer a secret, and it's actually fairly simple, even as good health is something that is very hard to achieve in our …society today. According to Dr. H.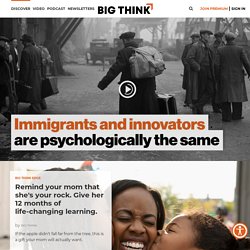 Of all forms of literature, however, the essay is the one which least calls for the use of long words. The principle which controls it is simply that it should give pleasure; the desire which impels us when we take it from the shelf is simply to receive pleasure. Everything in an essay must be subdued to that end. It should lay us under a spell with its first word, and we should only wake, refreshed, with its last. In the interval we may pass through the most various experiences of amusement, surprise, interest, indignation; we may soar to the heights of fantasy with Lamb or plunge to the depths of wisdom with Bacon, but we must never be roused. The essay must lap us about and draw its curtain across the world.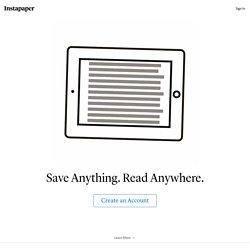 Instapaper: Save interesting web pages for reading later
Phone Numbers, Shortcuts, Reviews & Customer Tips - Companies Worldwide - GetHuman.com