Incoming Pearls
Obama Signs Monsanto Protection Act. Update: This is the power of activism.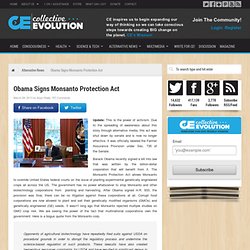 Due to the spreading of awareness about this story through alternative media, this act was shut down by senate and is now no longer effective. It was officially labeled the Farmer Assurance Provision under Sec. 735 of the Senate. Barack Obama recently signed a bill into law that was written by the billion-dollar corporation that will benefit from it. Programming. Build a cohesive channel strategy and viewing experience.
Gone are the days when YouTube was exclusively a place for one-hit viral videos. If you're a creator interested in building a successful channel on YouTube, you've got to consider your channel's long-term plan. What does this mean, and how do you execute it? The answer largely lies in developing a viable programming strategy.
Captivate Your Audience.
Fullscreen
Three Ingredients to a Powerful Personal Brand Presence. I often get asked in interviews, "What makes up a good Personal Brand?"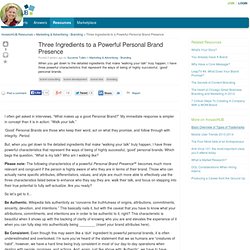 My immediate response is simpler in concept than it is in action: "Walk your talk." 'Good' Personal Brands are those who keep their word, act on what they promise, and follow through with integrity. Michael Jordan's Basketball Lesson. Powerful Software Monetization and Distribution Solutions. "CodeFuel has far and away the best platform, technology, and reporting.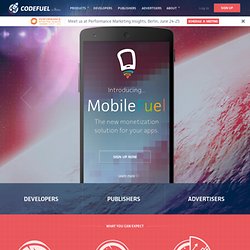 No other vendor makes monetization so easy." Bill Dettering, CEOApplian Technologies "CodeFuel is definitely the forerunner of the download space in terms of knowledge, technology, and reputation." Robotic futures: Telepresence your way into work. When you can not get to a meeting or inspect a warehouse in person, the next best thing is to transport yourself there remotely.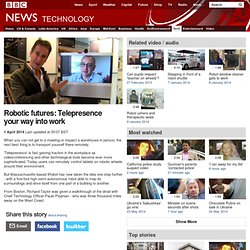 'Telepresence' is fast gaining traction in the workplace as videoconferencing and other technological tools become ever more sophisticated. Today users can remotely control tablets on robotic wheels around their environment. But Massachusetts-based iRobot has now taken the idea one step further - with a five-foot high semi-autonomous robot able to map its surroundings and drive itself from one part of a building to another. From Boston, Richard Taylor was given a walkthrough of the droid with Chief Technology Officer Paulo Pirjanian - who was three thousand miles away on the West Coast.
Pearltrees: Curation Tool Drops Flash And User Interface For Pintrest-like Format -SVW. Posted by Tom Foremski - May 23, 2014 Pearltrees (a former consulting client) this week introduced the 2.0 version of its popular web page curation tool built completely with HTML 5.0 and with a completely different user interface and metaphor.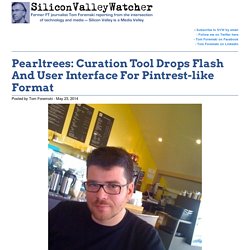 The tool now represents web pages as a series of rectangles in a "dynamic grid" allowing users to quickly organize and share their web collections. The prior interface was based on circles, or "pearls" connected in a molecular pattern to other "pearls. " Alright TV. Virtual Church. AppStream.
About. Trovi is an enhanced online search experience used by millions of people worldwide.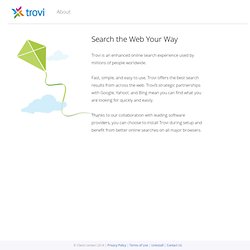 Fast, simple, and easy to use, Trovi offers the best search results from across the web. Trovi's strategic partnerships with Google, Yahoo! , and Bing mean you can find what you are looking for quickly and easily. Publishers – Leading software monetization and traffic for software and website publishers from CodeFuel. To make money in the new software economy, businesses need fast, flexible, and data-driven solutions.
That's why CodeFuel has been so successful at increasing revenue and traffic for such a wide range of clients – from software publishers and content owners to affiliates, distributors, and portals. We've Got the Right Solution for You SearchFuel. Official Windows 8.1 And Windows Phone 8.1 Walkthrough Videos Released. It was just yesterday that Microsoft revealed additional details about their upcoming software updates for the computer and the mobile phone in the form of Windows 8.1 and Windows Phone 8.1.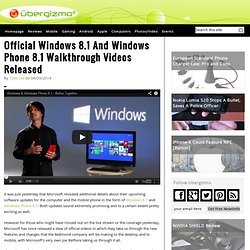 Both updates sound extremely promising and to a certain extent pretty exciting as well. However for those who might have missed out on the live stream or the coverage yesterday, Microsoft has since released a slew of official videos in which they take us through the new features and changes that the Redmond company will be making to the desktop and to mobile, with Microsoft's very own Joe Belfiore taking us through it all. The videos include a quick introduction to the Windows 8.1 and Windows Phone 8.1 update, followed by more detailed videos and walkthroughs of some of the features that Microsoft will be introducing in them.
Photo editor | PicMonkey: Free Online Photo Editing. And PicMonkey. Thank you for your interest in the PicMonkey affiliate program.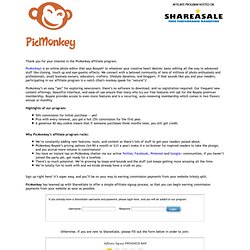 PicMonkey) is an online photo editor that says Booyah! To whatever your creative heart desires: basic editing all the way to advanced stuff like cloning, touch up and eye-gasmic effects. We connect with a beloved community of tens of millions of photo enthusiasts and professionals, small business owners, educators, crafters, lifestyle dynamos, and bloggers. Vortex: Days of Prophecy. | Roxrite 2012 - I'm Coming Home | HD. Robotic futures: Telepresence your way into work. Zach Sobiech: Finding Peace Through Music | Children's Cancer Research Fund. Home » Zach's Story: Finding peace through music With heavy hearts, we are saddened to share that Zach Sobiech passed away this morning. Zach was at home and at peace with those he loved most. Zach's life ended just as he lived, embraced by the love of his family, friends, grace and music.
Cancer may have taken Zach too soon, but he leaves a lasting legacy that most of us will never achieve. His message of love and hope delivered through infectious lyrics and memorable tunes have imprinted on the minds and hearts of millions around the world. Zach Sobiech. My Last Days: Meet Zach Sobiech. Why That Video Went Viral. There it was, virtual gold: a video of a firefighter resuscitating a kitten trapped in a smoky home. Neetzan Zimmerman, then an editor at Gawker, a news and gossip site, knew it was destined for viral magic.
But before he could publish a post about it, his editor made a request. Mr. Zimmerman was to include the epilogue omitted by most every other outlet: The kitten died of smoke inhalation soon after being saved. The Problem With Online Ratings. References (12) 1. "Nielsen: Global Consumers' Trust in 'Earned' Advertising Grows in Importance," April 10, 2012, www.nielsen.com. 2. S. Open Participation vs. Expert Groups: Biases and filters - The Collective Intelligence Blog.
Fitness & Health Transporter. Education Transporter. Misc Stuff. Facebook Transporter. Writing Transporter. Hubpages Transporter. Blog Transporter. Important Clouds.
Stumbleupon
Pearltrees Transporter. Music Transporter. E-Trading, Investing & Finance. Business Transporter. Sports Transporter. E-Business. Vimeo Transporter. Viadeo Transporter. News Transporter. Youtube Transporter. Web Design Transporter.
Cool networks. Transporting pearl. Misc. NYPD. Google+ Transporter. Natural Healing / Health. Marketing & Social Media Transporter.
Angel Investors & Success Transporter. Tupac Coachella Hologram.
---