Finance
Comment investir en Bourse Voici un article qui vous explique comment investir en Bourse. Clem Chambers vous dit les trois règles principales pour commencer à faire du trading. Comment investir en Bourse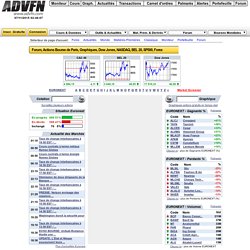 swissinfo.ch - 7 hours ago April 6 (Bloomberg) -- Vivendi SA agreed to sell its French phone unit SFR to Altice SA in a deal valued at more than 17 billion euros ($23 billion), rejecting a sweetened government- backed offer from Bouygues SA. The Guardian - Apr 4, 2014 Tesco has confirmed that its finance director Laurie McIlwee is to resign after 14 years with the company. Photograph: Rui Vieira/PA.
Google Finance: Stock market quotes, news, currency conversions & more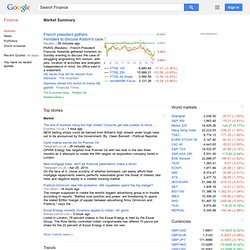 "Juan Carlos' destiny today, is to serve as the Fall Guy: symbolically bear the burden of the economic disaster, wait for the first good month of economic relief, finally abdicate in favor of Crown Prince at once, allowing Felipe to symbolize the renaissance. History'll be very generous with such a man: a titan."By Musso on Juan Carlos: Spanish monarch struggling to revive a tarnished crown "This recalls a chess game I played against computer that told me I would be check-mated in three moves. Governor Christie has three moves left.