E-Clouds
Netvibes - Dashboard Everything. Formspring. Be yourself.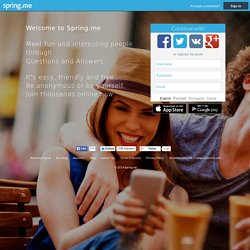 Be anonymous. Be anyone. Ask and answer - anything and anybody! Join the conversation now... You need to join to continue. Mashable. Cloud News. GeoCommons. WiseStart | UKs top startpage. Reach everything with just one click. Ebay Cloud.
One for everyone | You save and Let people to Search. Archify - What You See Is What You Search. Cloud Sharing - Facebook. Free File Sharing - Minus.com. Dribbble.