Blogs-Hubs-Ebooks
Miscellaneous Blogs & Hubs from various article writers Sep 1
Wix.com KNikkiGardner created by harlemsjewel based on Fashion Photographer
Antoine Msika's posterous - Home
pixelfantasies.com
2012Watch: Lithium Technologies Is On A Roll, Raises $53m And Plans Move To San Francisco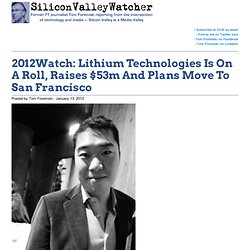 Posted by Tom Foremski - January 13, 2012 Lithium Technologies co-founder Lyle Fong. Lithium Technologies is on a roll - the Emeryville based company recently raised $53.4 million and has a full order book for its enterprise social media platform. Thursday evening Lithium Technologies held a dinner celebrating the publication of its Principal Scientist Michael Wu's new book, "The Science of Social." I was very impressed with the people I met and will follow up with a more in-deph profile of the company later this month.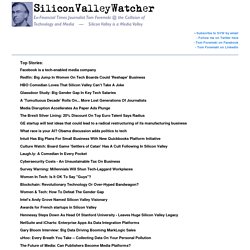 Silicon Valley Watcher - at the intersection of technology and media
Posted by Tom Foremski - January 17, 2014 Heather Knight's report on SFGate.com highlights the plight of local people forced off Mid-Market Street by police. Swept off Mid-Market, S.F.'
CloudExplorer on HubPages
How to Create a HubPages Article, Part 1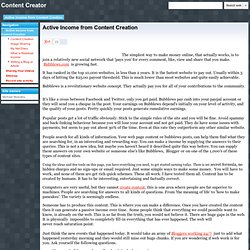 molometer
The simplest way to make money online, that actually works, is to join a relatively new social network that 'pays you' for every comment, like, view and share that you make. Bubblewes.com is growing fast. It has ranked in the top 10,000 websites, in less than 2 years. It is the fastest website to pay out. Usually within 3 days of hitting the $25.00 payout threshold. This is much lower than most websites and quite easily achievable.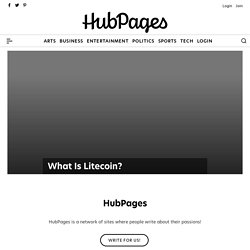 HubPages Reykjavik, Iceland Travel Advice: Dining, Nightlife, and Day Tripsby BoulismIceland, believe it or not, is not a far trek from the East Coast of the United States or Western Europe. In five hours or less, you can be walking the streets of Reykjavik enjoying the people, the food and drink, and their World class spas. Featured Topics DISCOVERa wealth of genuine, unique information CREATEoriginal, long-form, media-rich Hubs
HubPages
A writers' community
How to make pages on Wizzley.com.mov
harlemsjewelproduction.com
Psychology is something that's always fascinated me. In fact, before I dove into writing and social media, I thought about becoming a life coach. However, after realizing that a 16-year-old doesn't know shit about life, let alone could tell much more experienced people how to live their own, I quickly abandoned that idea.When I first saw the trailer for Her, it piqued the geek part of my brain. After all, we're moving into this new context-based world, and where our mobile devices can perform as a barebones personal assistant.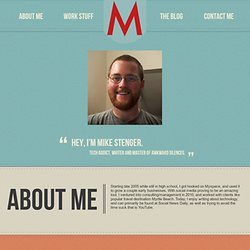 Mike Stenger | Social Media Tips And More
Way back in 2007 I decided to strike out on my own and begin consulting. I had a number of clients and things were going well. The snag? I wanted to buy a house and banks were simply not loaning money to folks who didn't have W-2 income. Well, they might but not to those who didn't have 20% to put down and Bay Area housing prices made that difficult.
What I Learned Running My Own Business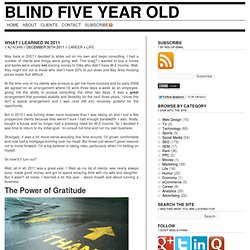 Squidoo : Welcome to Squidoo
Oneighty Creative Unveiling the process for client…
WordPress.com — Get a Free Blog Here
Custom Design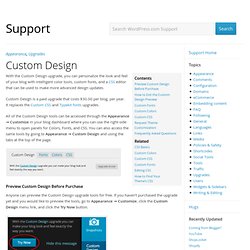 With the Custom Design upgrade, you can personalize the look and feel of your blog with intelligent color tools, custom fonts, and a CSS editor that can be used to make more advanced design updates. Custom Design is a paid upgrade that costs $30.00 per blog, per year. It replaces the Custom CSS and Typekit fonts upgrades. All of the Custom Design tools can be accessed through the Appearance → Customize in your blog dashboard where you can use the right-side menu to open panels for Colors, Fonts, and CSS. You can also access the same tools by going to Appearance → Custom Design and using the tabs at the top of the page.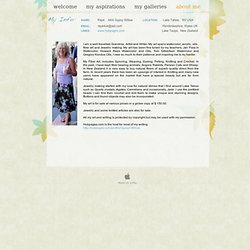 My Info: Name: Raye AKA Gypsy Willow Location: Lake Tahoe, NV USA email: raye4uk Pembrokeshire, Wales UK Links: www.hubpages.com Lake Taupo, New Zealand
I am a well travelled Grandma, Artist and Writer. My art spans watercolor, acrylic, oils , fiber art and Jewelry making. My art has been fine tuned by my teachers, Jan Foss in Watercolor, Howard Rees Watercolor and Oils, Tom Gilbertson Watercolor and Gregory Kondos Oils. I owe so much to their patience and inspiring me to try harder. My Fiber Art, includes Spinning, Weaving, Dyeing, Felting, Knitting and Crochet. In the past, I have kept fiber bearing animals, Angora Rabbits, Persian Cats and Sheep.
Publish Writing, Poetry, Music, Video & Content Online
It's Easy to Make Your Own Book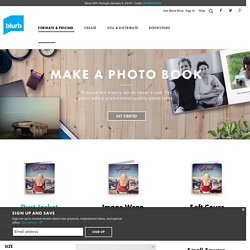 If you can press a button on your phone or camera and follow a couple of simple steps, you can make a photo book with Blurb, whether you've got just a few minutes (make an instant photo book) or you're ready to go all out. Oh, and they're the perfect gift for anyone. A baby photo book to make her smile at the shower, a birthday book celebrating a great year, whatever (or whomever) you're celebrating, a photo book is a great way to show someone you care (and how photogenic they are).
theGrio | African American Breaking News and Opinion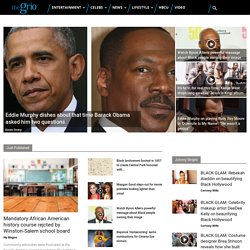 OPINION - Angela Corey clearly cares deeply about this case. But many people see Alexander as a victim of domestic violence, who tried to fight back, in a state where gun culture is king, but pro-gun laws are applied unevenly.. OPINION - What they do with their legs is the most obvious reason why they're changing the position.
Signalmen Union Is Ordered To End a Walkout at L.I.R.R.
Signalmen on the Long Island Rail Road who walked off their jobs yesterday in a protest against what they said were hazardous working conditions were ordered back to work last night by Judge I. Leo Glasser of Federal District Court in Brooklyn. Joseph Spinella, president of Local 56 of the Brotherhood of Railway Signalmen, said the union would obey the judge's order and called workers back to their jobs.
Create your free Blog
Much to the chagrin of a certain old-timey subset, traditional American masculinity is on its way out. Gone are days of the breadwinning hard hat wearers earning enough to support a wife that stays at home with 2.5 children; in 2014, the Haves wear bowties with short sleeved button down shirts and post pictures of their adopted three legged cat "Atticus" to Instagram while they wait for their daily webinar to start and the Have Nots drive their NOBAMA mudflapped trucks to the unemployment office. Read… 1/11/14 3:30pm Yesterday 3:30pm
Jezebel: Celebrity, Sex, Fashion for Women. Without Airbrushing.
Smashwords - Ebooks from independent authors and publishers
Bloglines