Communication agencies
Toy Agency, agence conseil en communication et stratégie web.
Daily Milk - by Magic Garden Agency
MRM Worldwide
MRM Paris réinvente son modèle, entretien avec sa Directrice Générale, Jocelyne Kauffmann.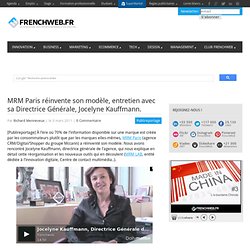 [Publireportage] À l'ère où 70% de l'information disponible sur une marque est créée par les consommateurs plutôt que par les marques elles-mêmes, MRM Paris (agence CRM/Digital/Shopper du groupe Mccann) a réinventé son modèle. Nous avons rencontré Jocelyne Kauffmann, directrice générale de l'agence, qui nous explique en détail cette réorganisation et les nouveaux outils qui en découlent ( MRM LAB , entité dédiée à l'innovation digitale, Centre de contact multimédia..). Tags: Jocelyne Kauffmann MRM Lab MRM Paris une
Arthur Schlovsky
Dufresne Corrigan Scarlett Advertising
Mobile Application Development | Creative Licence Digital
goviral
Isobar.Fr
Agence [kju:]
SAME SAME Agency | But different
LES GENS DE L'ATELIER
CLM BBDO BEAU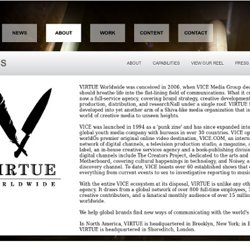 VIRTUE Worldwide was conceived in 2006, when VICE Media Group decided it should breathe life into the flat-lining field of communications. What it created is now a full-service agency, covering brand strategy, creative development, production, distribution, and researchÑall under a single roof. VIRTUE has developed into yet another arm of a Shiva-like media organization that is raising the world of creative media to unseen heights.
VIRTUE Worldwide - ABOUT