Drinks
My Creative Flavors: Refreshing Pomegranate Ice Tea with a Orangey Twist. Pomegranate is an all time favorite of mine.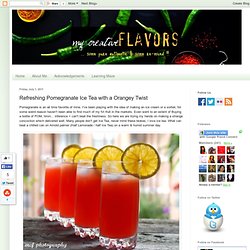 I've been playing with the idea of making an ice cream or a sorbet, for some weird reason haven't been able to find much of my fvt fruit in the markets. Even went to an extent of Buying a bottle of POM, hmm... inference = can't beat the freshness. So here we are trying my hands on making a strange concoction which delivered well. Many people don't get Ice Tea, never mind these blokes, I love ice tea. Favorite summer drinks: iced coffee, strawberry limes.
Do you know the frightening feeling you get every time you bite on something hard like a little stone which had been hiding in your rice or bread and you hear the cracking noise in your head and you think, damn this was my tooth?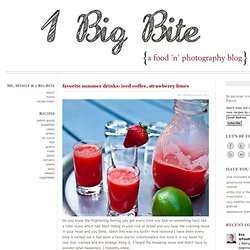 How relieved I have been every time it turned out it had been a false alarm! Unfortunately this time it is my tooth for real that cracked and the strange thing is, I heard the breaking noise and didn't have to wonder what happened, I instantly knew. Eating has been tricky since a couple of days and I managed to behave well, I didn't spill on anybody and didn't loose my food while chewing. In a couple of days will be my dentist appointment and I am half anxious because of the treatment and half looking forward to be finally able to eat like an adult again. Tequila-Soaked Watermelon Wedges. Carrot Orange Ginger Juice. Thursday January 27th, 2011 in Home Cooking It all started with Jack Lalanne.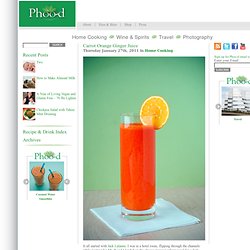 I was in a hotel room, flipping through the channels while waiting for Mr. B and I landed on the always-running informercial for a Jack Lalanne juicer. Step-by-Step: Amazing Spiced Chai Concentrate – Tasty Kitchen Blog. Warm spices, strong tea and steamed milk swirling around in my tummy make chai lattes a favorite during the winter months.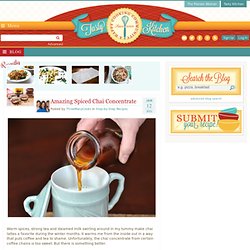 It warms me from the inside out in a way that puts coffee and tea to shame. Unfortunately, the chai concentrate from certain coffee chains is too sweet. But there is something better. Strawberry Margarita Jell-O Shooters. Strawberry Margarita Jell-O Shooters Margarita Jell-O Shooters ~ A fun farewell to summer and a festive edition to your Sunday football tailgate party or gatherings.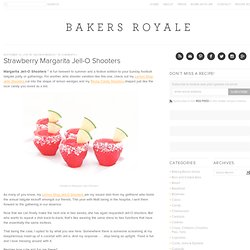 For another Jello shooter variation like this one, check out my Lemon Drop Jello Shooters cut into the shape of lemon wedges and my Rocky Candy Shooters shaped just like the rock candy you loved as a kid. Frozen Coconut Limeade.
---