More DIY Jewlry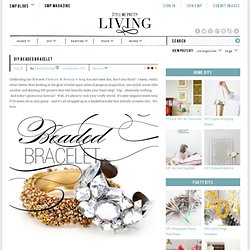 Categories Tags Vendors Style Colors
DIY Beaded Bracelet
BEADED WRAP BRACELET DIY
This Beaded Wrap Bracelet DIY is a great way to reuse the beads from old necklaces or any odd beads you have lying around from other projects. (I used at least 3 old necklaces for this bracelet.) I feel invincible, like I have Wonder Woman's gold cuff on! This Beaded Wrap Bracelet is so fun because it feels like a gauntlet on your arm.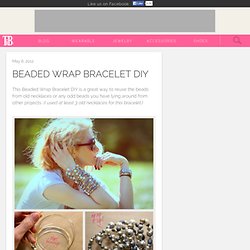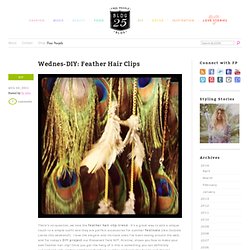 There's no question, we love the feather hair clip trend. It's a great way to add a unique touch to a simple outfit and they are perfect accessories for summer festivals (like Outside Lands this weekend!). I love the elegant and intricate ones I've been seeing around the web, and for today's DIY project our Roosevelt field MIT, Kristina, shows you how to make your own feather hair clip!
Wednes-DIY: Feather Hair Clips
Did you know...that you can make new earrings with a button and a paperclip? True story! I've been trying to think of a way for us to make some earrings without having to buy supplies. Buying the beads and all the findings can really add up. :o( Sad. But-oh, what?
Easy Button Earrings Tutorial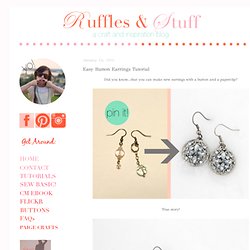 BRAIDED HEX NUT BRACELET DIY
When I first saw this braided hex nut bracelet on Pinterest and I knew I had to make one. It's a quick and easy project to make for less than $5 and looks great stacked with all your other bracelets. To see step by step instructions and photos click here.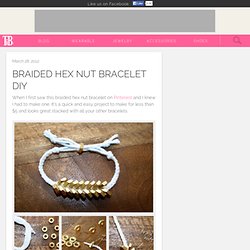 iLoveToCreate: Burnt Offerings Decoupage Necklace
iLoveToCreate Retrofabulous CraftsBurnt Offerings Decoupage NecklaceMargot Potter In 2009 I published a book called Beyond the Bead. It is by far my favorite book. I had a blast making beads and components out of all sorts of wonderful things I found in the aisles at the craft and hardware stores. One of the projects in the book used old book pages, wooden craft stars and a wood burning tool to create the look of aged and burned charms.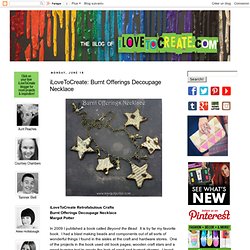 Charming Locket - Martha Stewart Crafts
themerrymonster - Kieljamespatrick
Pretty Handmade Dual Chain & Ribbon Necklace Tutorial
Gabba Gabba Gorgeous - Anchors aweigh:) my bros in the navy<3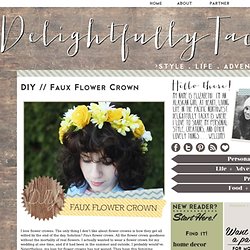 I love flower crowns. The only thing I don't like about flower crowns is how they get all wilted by the end of the day. Solution? Faux flower crown.
Delightfully Tacky: DIY // Faux Flower Crown
Stamped Resin Bangle for CraftsUnleashed.com So, my "Stamped Resin Bangles" went up on CraftsUnleashed.com yesterday, and I was pretty pleased with the results. It's a stamped-and-painted paper strip that's then decoupaged into the resin form that comes from ConsumerCrafts.com. (See the full tutorial HERE.) Of course, when you are designing crafts for an international craft-supply company, you use only what they carry, right?
Mod Podged Resin Bangle | Craft Test Dummies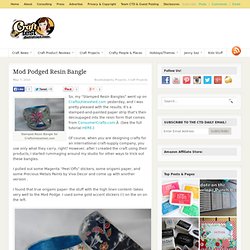 DIY Steampunk Gears Necklace
I have always been obsessed with watches, clocks, and gears, so when "steampunk" jewelry started to come into style, I was enthralled. I had found a small package of these thin gear shaped metal pieces at Michael's and just had to have them. They sat in one of my craft supplies boxes for a few months while I thought long and hard about what to do with them. I bought some actual watch gears as well and added them to my box.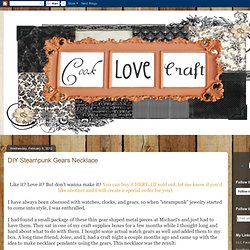 ♥Material: metal,glass pearl♥Colour: silver,golden♥pendant glass pearl size: 12mm(0.5in) ; wings: 30mm(1.2in)♥Bracelet Lenght:19cm(7.5in)♥nickel and lead free♥The bracelet is packaged in a pretty little gift bag, set on a soft piece of white air bubble film.♥Thank you for visiting! If you have any question, please feel free email me. We will respond as quickly as possible. Payment Methods
Golden Snitch Bracelet In Silver Steampunk Harry by BeautyandLuck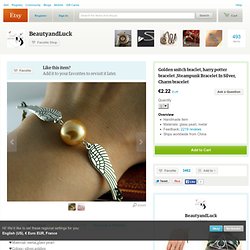 inspiration and realisation: DIY Fashion + Home
these bracelets are easy, fast to make...and just lovely I made these with silky satin ropes, but sure the possibilities are endless: cords of leather, cotton, jute, and ribbons, beads... and more. * scissors & fabric glue
DIY Chevron Leather Cuff
I found these large vintage rhinestone earrings on Ebay for under $5, but I'm 100% sure my local thrift shops have a nice little collection and yours would too. I bet you could also find some in your Grandma's jewelry box, if she'll part with them! Since they're clip-ons, and clip-ons never seem to say clipped onto my little lobes, I thought I'd upcycle them in a number of ways to show you just how versatile they are as well as adding that extra something to brighten up a plain object, giving it a really unique vintage flair. * Beading Pliers* Wire cutters* Hot glue gun
10 Ways to Easily Upcycle Vintage Rhinestone Earrings
We're nuts for nuts. Is there a more versatile and inexpensive DIY component than a hex nut from the hardware store? You can imagine our excitement when we first discovered Philip Crangi's Giles & Brother Hex Collection. Honestly, nuts braided into jewelry is WTF genius!
DIY Braided Hex Nut Bracelet
When I attended Bead&Button, I was absolutely bowled over by the pieces on display in the Bead Dreams showcases. One necklace that really wowed me was Helen of Troy, by French beader Anneta Valious. Not only is it luxe and gorgeous, but it uses a technique I'd never seen before. Helen of Troy, by Anneta Valious Back at home, I found Anneta's website, clicked through it, and discovered she describes her designs as being soutache jewelry. That still didn't tell me much.
Interview with Anneta Valious
Pearl Ribbon Necklace
DIY Ribbon + Chain Bracelets from #MAGICLV
The Peppermint Store: Golden heart bracelet
Hey! Look what I Made!: Neon and Metallic Bracelets
Stones and Leather
PVC
Rope Bangle Bracelet - Martha Stewart Crafts
52 Week Challenge: #14 DIY Flower Crown
crafty, easy, stylish jewelry
Dutch Wax Collage Bracelet Knockoff
☩DIY☩ Rhinestone Friendship Bracelet
DIY Wrap Bracelet
How To Tuesday: My Sweet Josephine.
Outlier DIY | Jump Ring & Chain Necklace
How to make 5 bracelets in 10 minutes
Chain & Pearl Multi-Row Bracelet
An Industry Party
DIY MIDSUMMER CROWN
Refashioned Jewels: Coloring Gems DIY
Metal Flower Pendant
m2mtb6uGs91qzymieo1_r2_1280.jpg (1280×1792)
DIY Braided Bead Bracelet
How To Make These Fun & Stylish Shamballa Inspired Bracelets
Light Weight, Easy & Fun To Make Assorted Bracelets
lwywsqE31j1qzymieo1_1280.jpg (914×1280)
lzc64eqnQt1qzymieo1_1280.jpg (1280×1792)
DIY: Leather wrap bracelet » The Full Moxie:: Celebrity, Entertainment, DIY, Fashion & Beauty, Fitness & Health, Love & Family,Food,
How to Make a Fork Bracelet
Bejeweled Epoxy Pendant | Mallory Paige
Eco Friendly Jewelry made of Paper, Clay, Hemp and Yarn
Karen London- "Luxe"-inspired shiny earrings!
llrkyakWhM1qzymieo1_r1_1280.jpg (914×1280)
Pink Lemonade: DIY: How To Create Bridal (or any other occasion) Butterfly Hair Pins
DIY Macrame Bracelet
DIY Favorite: Glass Tile Pendants » The Full Moxie:: Celebrity, Entertainment, DIY, Fashion & Beauty, Fitness & Health, Love & Family,Food,
How to make custom oval necklaces
Blue Enamel Shell & Freshwater Pearl Pendant - Fit for a Mermaid!
DIY Home Depot Bracelet
Guest Post: Valerie William at Additions « Heart On My Sleeve
Two Cool Metallic Bracelets You Can Make Yourself
Re-Vamp your Friendship Bracelets!
DIY// bobby pin earrings
Malachite and Leather Woven Beaded bracelet
Viktoria Slutsky - Claying Mama: Romantically Shabby Hanging From The Neck
Little Livingstone: How to Make a Metal Wire Name Necklace
Boden Boulevard Necklace Knockoff
DIY Jewelry
Ombré-d Up A Sweet Crochet'd Chain Necklace | Rit Dye
Wardrobe Recycle: Studded Chain Bracelet
Sterling Silver and Niobium Chainmaille Bracelet - Dragonscale Weave - Lone Rock Jewelry
DIY: J.Crew Bubble Necklace
Beaded, braided, bracelet.
Glass Pendant Necklaces Tutorial | Simply Modern Mom
Tutorial: Golden Birthday Necklace
Soda can earrings
Book Page Bracelet
DIY: Anchor Bracelet
FREE Ideas : Artbeads.com - Connection in Time Bracelet
A Yellow Jeweled Bracelet - a year of handmade gift
Lace Choker DIY
Got 2 Minutes? Make A Bracelet!
DIY Bracelet: Chain Link & Washers
Shrinky Bracelet
How to Make Glass Tile Pendants
Quick and Easy DIY: River Rock Choker Necklace
Non Traditional Valentines Jewelry
Perfect Summer Bangle
Wooden coffee stirrers necklace
Project Runway Studded Trim Accessories
The Only Rain You'll Want on Your Wedding Day! // English Summer Necklace
DIY Galaxy Cuff
Foiled Glass Bead & Silver Bracelet Tutorial
DIY Braided Necklace
DIY Ribbon + Chain Bracelets from #MAGICLV
kojotutorial: anthropologie knock off vintage lace bracelet
chevron necklace