Major theories
In theoretical physics , M-theory is an extension of string theory in which 11 dimensions are identified. Proponents believe that the 11-dimensional theory unites all five 10 dimensional string theories and supersedes them. Though a full description of the theory is not known, the low-entropy dynamics are known to be supergravity interacting with 2- and 5-dimensional membranes .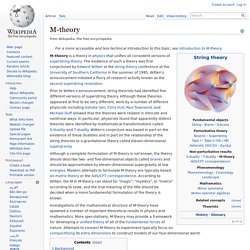 Superstring theory
Superstring theory is an attempt to explain all of the particles and fundamental forces of nature in one theory by modelling them as vibrations of tiny supersymmetric strings.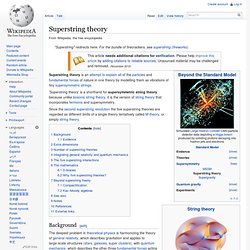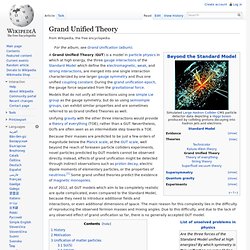 A Grand Unified Theory ( GUT ) is a model in particle physics in which at high energy, the three gauge interactions of the Standard Model which define the electromagnetic , weak , and strong interactions , are merged into one single interaction characterized by one larger gauge symmetry and thus one unified coupling constant .
Grand Unified Theory
In particle physics , supersymmetry (often abbreviated SUSY ) is a proposed symmetry of nature relating two basic classes of elementary particles: bosons , which have an integer-valued spin , and fermions , which have a half-integer spin. Each particle from one group is associated with a particle from the other, called its superpartner , whose spin differs by a half-integer. In a theory with unbroken supersymmetry each pair of superpartners shares the same mass and internal quantum numbers besides spin, but since no superpartners have been observed yet, supersymmetry must be a spontaneously broken symmetry [ citation needed ] .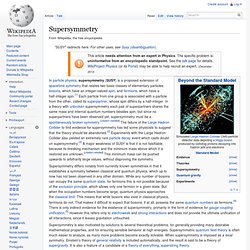 Gauge theory
In physics , a gauge theory is a type of field theory in which the Lagrangian is invariant under a continuous group of local transformations.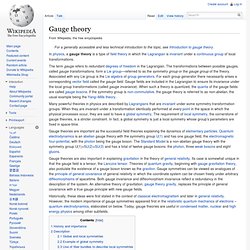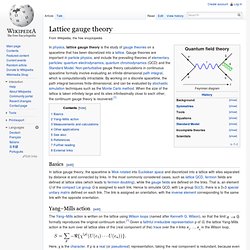 Lattice gauge theory
In physics , lattice gauge theory is the study of gauge theories on a spacetime that has been discretized into a lattice .
Lattice field theory
In physics , lattice field theory is the study of lattice models of quantum field theory , that is, of field theory on a spacetime that has been discretized onto a lattice . Although most lattice field theories are not exactly solvable , they are of tremendous appeal because they can be studied by simulation on a computer. One hopes that, by performing simulations on larger and larger lattices, while making the lattice spacing smaller and smaller, one will be able to recover the behaviour of the continuum theory.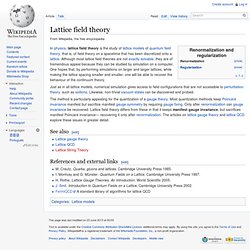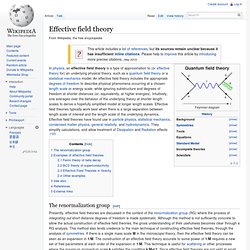 In physics , an effective field theory is, as any effective theory , an approximate theory, (usually a quantum field theory ) that includes appropriate degrees of freedom to describe physical phenomena occurring at a chosen length scale, while ignoring substructure and degrees of freedom at shorter distances (or, equivalently, at higher energies). [ edit ] The renormalization group
Effective field theory
In particle physics , the electroweak interaction is the unified description of two of the four known fundamental interactions of nature: electromagnetism and the weak interaction .
Electroweak interaction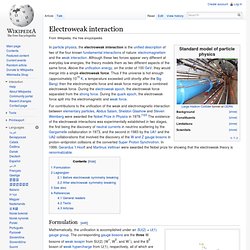 Quantum chromodynamics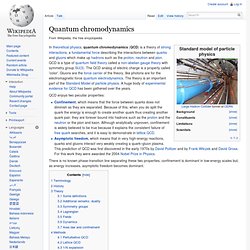 In theoretical physics , quantum chromodynamics ( QCD ) is a theory of the strong interaction ( color force), a fundamental force describing the interactions between quarks and gluons which make up hadrons (such as the proton , neutron or pion ).
Quantum field theory ( QFT ) is a theoretical framework for constructing quantum mechanical models of fields and many-body systems (in a condensed matter context), both of which are systems classically represented by an infinite number of degrees of freedom .
This article is a non-mathematical general overview of the Standard Model. For a mathematical description, see the article Standard Model (mathematical formulation) . The Standard Model of particle physics is a theory concerning the electromagnetic , weak , and strong nuclear interactions, which mediate the dynamics of the known subatomic particles.