Major theories
This idea is the unique supersymmetric theory in 11 dimensions (11D), with its low-entropy matter content and interactions fully determined, and can be obtained as the strong coupling limit of type IIA string theory because a new dimension of space emerges[clarification needed] as the coupling constant increases. In the early 1990s, it was shown that the various superstring theories were related by dualities which allow the description of an object in one super string theory to be related to the description of a different object in another super string theory. These relationships imply that each of the super string theories is a different aspect of a single underlying theory, proposed by Witten, and named "M-theory".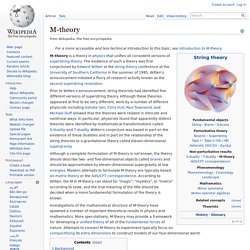 Superstring theory
Superstring theory is an attempt to explain all of the particles and fundamental forces of nature in one theory by modelling them as vibrations of tiny supersymmetric strings.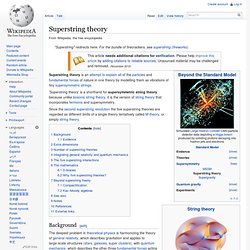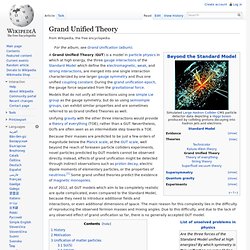 A Grand Unified Theory (GUT) is a model in particle physics in which at high energy, the three gauge interactions of the Standard Model which define the electromagnetic, weak, and strong interactions, are merged into one single interaction characterized by one larger gauge symmetry and thus one unified coupling constant.
Grand Unified Theory
There is only indirect evidence for the existence of supersymmetry, primarily in the form of evidence for gauge coupling unification.[4] Supersymmetry is also motivated by solutions to several theoretical problems, for generally providing many desirable mathematical properties, and for ensuring sensible behavior at high energies. Supersymmetric quantum field theory is often much easier to analyze, as many more problems become exactly solvable. When supersymmetry is imposed as a local symmetry, Einstein's theory of general relativity is included automatically, and the result is said to be a theory of supergravity.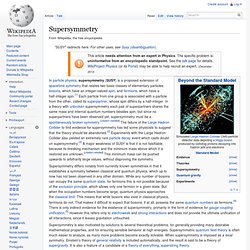 Gauge theory
The term gauge refers to redundant degrees of freedom in the Lagrangian.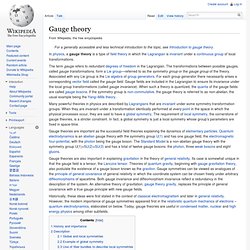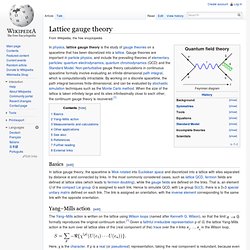 Lattice gauge theory
In physics, lattice gauge theory is the study of gauge theories on a spacetime that has been discretized into a lattice.
Lattice field theory
Just as in all lattice models, numerical simulation gives access to field configurations that are not accessible to perturbation theory, such as solitons. Likewise, non-trivial vacuum states can be discovered and probed. The method is particularly appealing for the quantization of a gauge theory.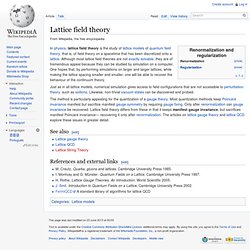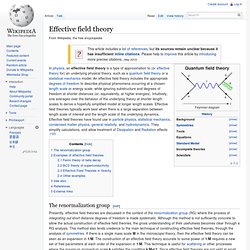 In physics, an effective field theory is a type of approximation to (or effective theory for) an underlying physical theory, such as a quantum field theory or a statistical mechanics model. An effective field theory includes the appropriate degrees of freedom to describe physical phenomena occurring at a chosen length scale or energy scale, while ignoring substructure and degrees of freedom at shorter distances (or, equivalently, at higher energies).
Effective field theory
In particle physics, the electroweak interaction is the unified description of two of the four known fundamental interactions of nature: electromagnetism and the weak interaction.
Electroweak interaction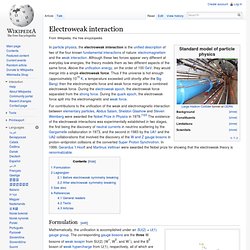 Quantum chromodynamics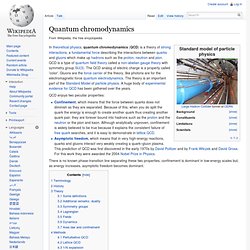 In theoretical physics, quantum chromodynamics (QCD) is a theory of the strong interaction (color force), a fundamental force describing the interactions between quarks and gluons which make up hadrons (such as the proton, neutron or pion).
For example, quantum electrodynamics (QED) has one electron field and one photon field; quantum chromodynamics (QCD) has one field for each type of quark; and, in condensed matter, there is an atomic displacement field that gives rise to phonon particles.
The Standard Model of particle physics is a theory concerning the electromagnetic, weak, and strong nuclear interactions, which mediate the dynamics of the known subatomic particles. It was developed throughout the latter half of the 20th century, as a collaborative effort of scientists around the world.[1] The current formulation was finalized in the mid-1970s upon experimental confirmation of the existence of quarks. Since then, discoveries of the top quark (1995), the tau neutrino (2000), and more recently the Higgs boson (2013), have given further credence to the Standard Model.