General concepts
Experiment
Even very young children perform rudimentary experiments in order to learn about the world.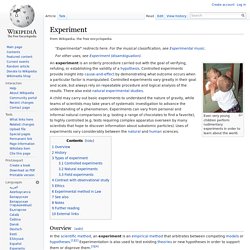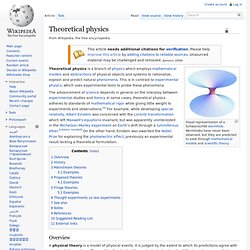 Theoretical physics is a branch of physics which employs mathematical models and abstractions of physical objects and systems to rationalize, explain and predict natural phenomena.
Theoretical physics
For example, length is a physical quantity. The metre is a unit of length that represents a definite predetermined length. When we say 10 metres (or 10 m), we actually mean 10 times the definite predetermined length called "metre".
Units of measurement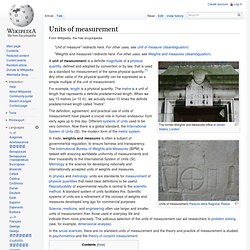 Historically, the distinction is made based on qualitative differences in properties. Matter in the solid state maintains a fixed volume and shape, with component particles (atoms, molecules or ions) close together and fixed into place. Matter in the liquid state maintains a fixed volume, but has a variable shape that adapts to fit its container.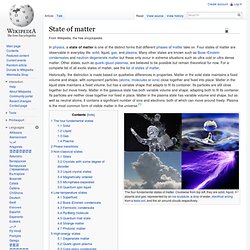 State of matter
Physical quantity
A physical quantity (or "physical magnitude") is a physical property of a phenomenon, body, or substance, that can be quantified by measurement.[1]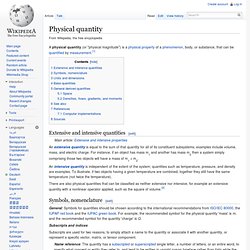 Observation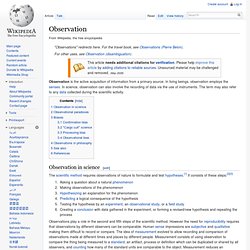 Observation is the active acquisition of information from a primary source. In living beings, observation employs the senses. In science, observation can also involve the recording of data via the use of instruments.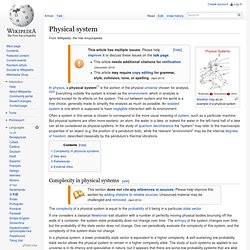 Physical system
Complexity in physical systems[edit] The complexity of a physical system is equal to the probability of it being in a particular state vector. If one considers a classical Newtonian ball situation with a number of perfectly moving physical bodies bouncing off the walls of a container, the system-state probability does not change over time.
The Sun is Earth's primary source of light.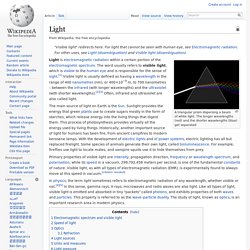 Gravitation, or gravity, is a natural phenomenon by which all physical bodies attract each other.