Concepts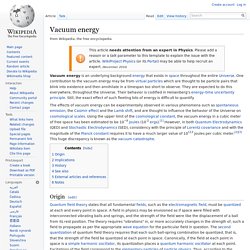 Vacuum energy
Vacuum energy is an underlying background energy that exists in space throughout the entire Universe. [ citation needed ] One contribution to the vacuum energy may be from virtual particles which are thought to be particle pairs that blink into existence and then annihilate in a timespan too short to observe. They are expected to do this everywhere, throughout the Universe. Their behavior is codified in Heisenberg's energy–time uncertainty principle .
A theory of everything ( ToE ) or final theory is a putative theory of theoretical physics that fully explains and links together all known physical phenomena, and predicts the outcome of any experiment that could be carried out in principle . [ 1 ] The term mainly refers to the desire to reconcile the two main successful physical frameworks, general relativity which describes gravity and the large-scale structure of spacetime , and quantum field theory , particularly as implemented in the standard model , which describes the small-scale structure of matter while incorporating the other three non-gravitational forces, the weak , strong and electromagnetic interactions. A primary stumbling block in the construction of a ToE is that straightforward attempts to apply quantum mechanics to the gravitational field, in the same way as for say the electromagnetic field , fails due to the breakdown of the renormalization procedure.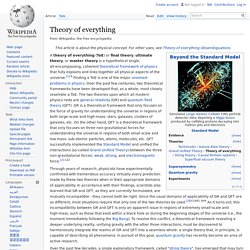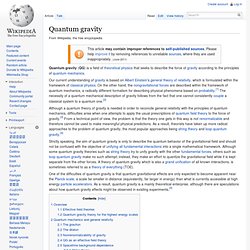 Quantum gravity ( QG ) is a field of theoretical physics that develops scientific models . Its goal is to unify quantum mechanics , which describes three of the four known fundamental interactions , with general relativity , which describes the fourth fundamental interaction, gravity .
A string is a hypothetical vibrating one-dimensional sub-atomic structure and one of the main objects of study in string theory , a branch of theoretical physics . There are different string theories , many of which are unified by M-theory . A string is an object with a one-dimensional spatial extent, unlike an elementary particle which is zero-dimensional, or point-like.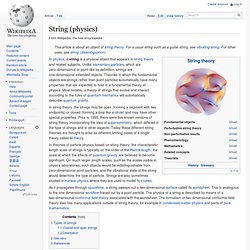 String (physics)
Brane
Spontaneous symmetry breaking
Spontaneous symmetry breaking is a mode of realization of symmetry breaking in a physical system, where the underlying laws are invariant under a symmetry transformation, but the system as a whole changes under such transformations, in contrast to explicit symmetry breaking .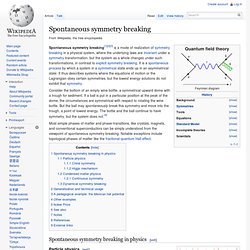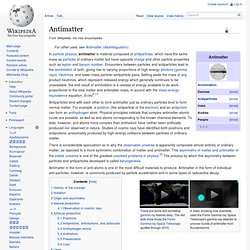 In particle physics , antimatter is material composed of antiparticles , which have the same mass as particles of ordinary matter but have opposite charge and quantum spin .
In quantum mechanics and particle physics , spin is an intrinsic form of angular momentum carried by elementary particles , composite particles ( hadrons ), and atomic nuclei . [ 1 ] [ 2 ] Spin is a solely quantum-mechanical phenomenon; it does not have a counterpart in classical mechanics (despite the term spin being reminiscent of classical phenomena such as a planet spinning on its axis). [ 2 ]
Spin (physics)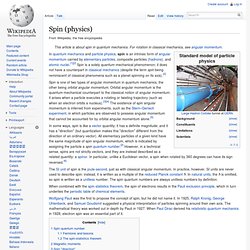 Standard Model of elementary particles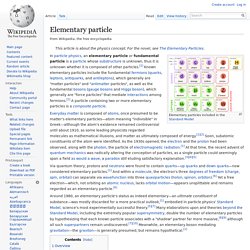 Fundamental interactions , sometimes called fundamental forces or interactive forces , are described in fundamental physics as patterns of relations in physical systems evolving over time, whose descriptions appear not reducible to relations among entities more basic. The known fundamental interactions are gravitation , electromagnetism , strong nuclear , and weak nuclear which are all non-contact forces . The electromagnetic and weak interactions were modeled together as the electroweak interaction , inferred to operate only at such high temperatures as soon after the presumed Big Bang , although as the early universe cooled, the electroweak interaction split into electromagnetism and the weak interaction.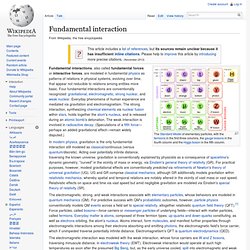 types of fundemental force