Concepts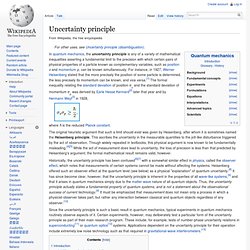 In quantum mechanics , the uncertainty principle is any of a variety of mathematical inequalities asserting a fundamental limit to the precision with which certain pairs of physical properties of a particle known as complementary variables, such as position x and momentum p , can be known simultaneously. For instance, the more precisely the position of some particle is determined, the less precisely its momentum can be known, and vice versa. [ 1 ] The original heuristic argument that such a limit should exist was given by Werner Heisenberg in 1927, after whom it is sometimes named the Heisenberg principle .
Pauli exclusion principle
The Pauli exclusion principle is the quantum mechanical principle that no two identical fermions (particles with half-integer spin ) may occupy the same quantum state simultaneously. A more rigorous statement is that the total wave function for two identical fermions is anti-symmetric with respect to exchange of the particles. The principle was formulated by Austrian physicist Wolfgang Pauli in 1925.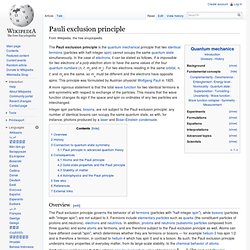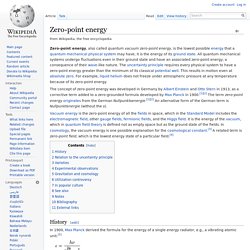 Zero-point energy , also called quantum vacuum zero-point energy , is the lowest possible energy that a quantum mechanical physical system may have; it is the energy of its ground state .
Wave–particle duality postulates that all particles exhibit both wave and particle properties.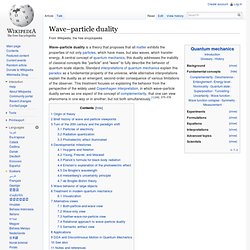 Wave mechanics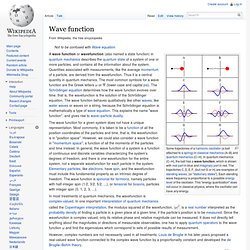 A wave function or wavefunction is a probability amplitude in quantum mechanics describing the quantum state of a particle and how it behaves.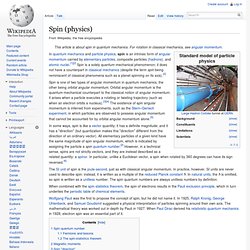 In quantum mechanics and particle physics , spin is an intrinsic form of angular momentum carried by elementary particles , composite particles ( hadrons ), and atomic nuclei . [ 1 ] [ 2 ] Spin is a solely quantum-mechanical phenomenon; it does not have a counterpart in classical mechanics (despite the term spin being reminiscent of classical phenomena such as a planet spinning on its axis). [ 2 ]
Spin (physics)
In particle physics , the Dirac equation is a relativistic wave equation formulated by British physicist Paul Dirac in 1928.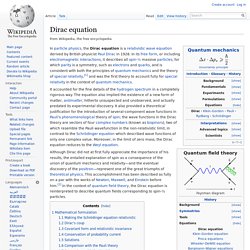 Dirac equation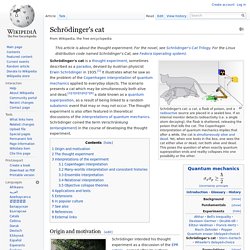 Schrödinger's cat: a cat, a flask of poison, and a radioactive source are placed in a sealed box.
Quantum tunnelling (also spelt quantum tunneling in American English) refers to the quantum mechanical phenomenon where a particle tunnels through a barrier that it classically could not surmount. This plays an essential role in several physical phenomena, such as the nuclear fusion that occurs in main sequence stars like the sun, [ 1 ] and has important applications to modern devices such as the tunnel diode [ 2 ] and the scanning tunneling microscope .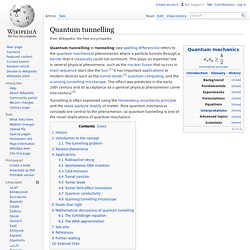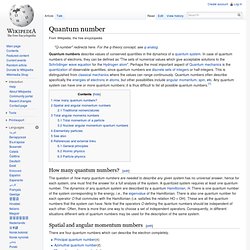 Quantum numbers describe values of conserved quantities in the dynamics of the quantum system .
Quantum number
Some trajectories of a harmonic oscillator according to Newton's laws of classical mechanics (A-B), and according to the Schrödinger equation of quantum mechanics (C-H).
Quantum harmonic oscillator
Quantum entanglement occurs when particles such as photons , electrons , molecules as large as buckyballs , [ 1 ] [ 2 ] and even small diamonds [ 3 ] [ 4 ] interact physically and then become separated; the type of interaction is such that each resulting member of a pair is properly described by the same quantum mechanical description ( state ), which is indefinite in terms of important factors such as position , [ 5 ] momentum , spin , polarization , etc.
In physics , quantization is the process of explaining a classical understanding of physical phenomena in terms of a newer understanding known as " quantum mechanics ". It is a procedure for constructing a quantum field theory starting from a classical field theory . This is a generalization of the procedure for building quantum mechanics from classical mechanics .
Quantization (physics)
Quantum
In physics , a quantum (plural: quanta ) is the minimum amount of any physical entity involved in an interaction. Behind this, one finds the fundamental notion that a physical property may be "quantized," referred to as "the hypothesis of quantization ". [ 1 ] This means that the magnitude can take on only certain discrete values.
In basic mathematics, an operator is a symbol or function representing a mathematical operation .
Operator (mathematics)
Planck constant
Identical particles
Hilbert space
Hamiltonian (quantum mechanics)
Free particle
Correspondence principle
Born–Oppenheimer approximation