Concepts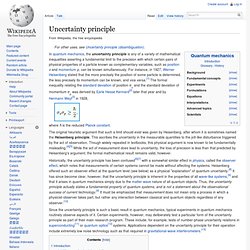 where ħ is the reduced Planck constant. The original heuristic argument that such a limit should exist was given by Heisenberg, after whom it is sometimes named the Heisenberg principle.
Pauli exclusion principle
The Pauli exclusion principle is the quantum mechanical principle that no two identical fermions (particles with half-integer spin) may occupy the same quantum state simultaneously. A more rigorous statement is that the total wave function for two identical fermions is anti-symmetric with respect to exchange of the particles. The principle was formulated by Austrian physicist Wolfgang Pauli in 1925.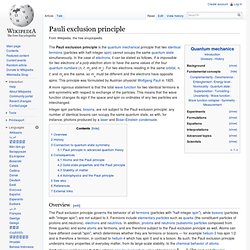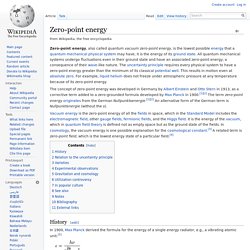 Zero-point energy, also called quantum vacuum zero-point energy, is the lowest possible energy that a quantum mechanical physical system may have; it is the energy of its ground state.
Origin of theory[edit]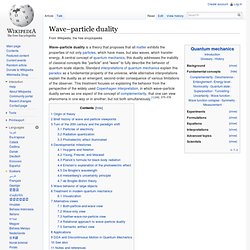 Wave mechanics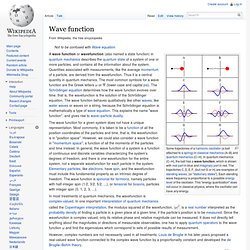 Although ψ is a complex number, |ψ|2 is real corresponding by Max Born's proposal to the probability density of finding a particle in a given place at a given time, if the particle's position is to be measured.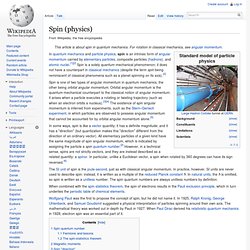 In quantum mechanics and particle physics, spin is an intrinsic form of angular momentum carried by elementary particles, composite particles (hadrons), and atomic nuclei.[1][2] Spin is a solely quantum-mechanical phenomenon; it does not have a counterpart in classical mechanics (despite the term spin being reminiscent of classical phenomena such as a planet spinning on its axis).[2]
Spin (physics)
In particle physics, the Dirac equation is a relativistic wave equation derived by British physicist Paul Dirac in 1928.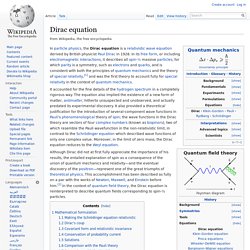 Dirac equation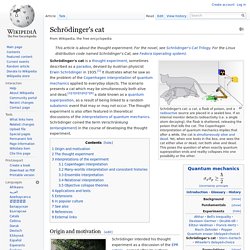 Schrödinger's cat: a cat, a flask of poison, and a radioactive source are placed in a sealed box.
Quantum tunnelling or tunneling (see spelling differences) refers to the quantum mechanical phenomenon where a particle tunnels through a barrier that it classically could not surmount. This plays an essential role in several physical phenomena, such as the nuclear fusion that occurs in main sequence stars like the Sun.[1] It has important applications to modern devices such as the tunnel diode,[2] quantum computing, and the scanning tunnelling microscope.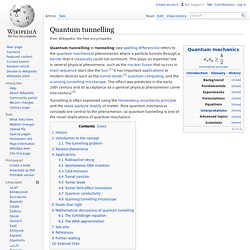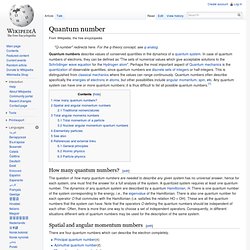 Quantum numbers describe values of conserved quantities in the dynamics of a quantum system.
Quantum number
Some trajectories of a harmonic oscillator according to Newton's laws of classical mechanics (A-B), and according to the Schrödinger equation of quantum mechanics (C-H).
Quantum harmonic oscillator
Quantum entanglement is a physical phenomenon that occurs when pairs (or groups) of particles are generated or interact in ways such that the quantum state of each member must subsequently be described relative to the other.
The first method to be developed for quantization of field theories was canonical quantization. While this is extremely easy to implement on sufficiently simple theories, there are many situations where other methods of quantization yield more efficient procedures for computing quantum amplitudes. However, the use of canonical quantization has left its mark on the language and interpretation of quantum field theory.
Quantization (physics)
Quantum
A photon is a single quantum of light, and is referred to as a "light quantum". The energy of an electron bound to an atom is quantized, which results in the stability of atoms, and hence of matter in general.
Let U, V be two vector spaces.
Operator (mathematics)
Identical particles
Hilbert space
Hamiltonian (quantum mechanics)
Free particle
Correspondence principle
Born–Oppenheimer approximation