Concepts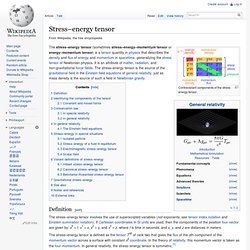 Contravariant components of the stress-energy tensor.
Stress–energy tensor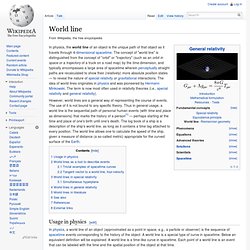 World line
In physics, the world line of an object is the unique path of that object as it travels through 4- dimensional spacetime . The concept of "world line" is distinguished from the concept of "orbit" or "trajectory" (such as an orbit in space or a trajectory of a truck on a road map) by the time dimension, and typically encompasses a large area of spacetime wherein perceptually straight paths are recalculated to show their (relatively) more absolute position states — to reveal the nature of special relativity or gravitational interactions. The idea of world lines originates in physics and was pioneered by Herman Minkowski .
Twin paradox
In physics, the twin paradox is a thought experiment in special relativity involving identical twins, one of whom makes a journey into space in a high-speed rocket and returns home to find that the twin who remained on Earth has aged more. This result appears puzzling because each twin sees the other twin as traveling, and so, according to a naive application of time dilation , each should paradoxically find the other to have aged more slowly.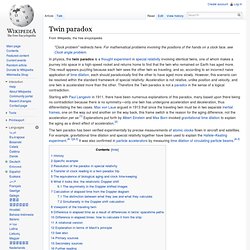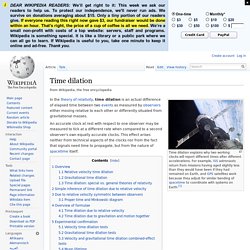 Time dilation explains why two working clocks will report different times after different accelerations.
Time dilation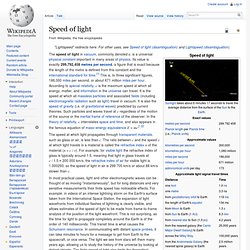 Speed of light
The speed of light in vacuum , commonly denoted c , is a universal physical constant important in many areas of physics .
Principle of relativity
In physics , the principle of relativity is the requirement that the equations describing the laws of physics have the same form in all admissible frames of reference .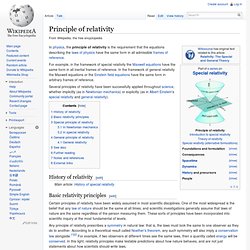 Relativity of simultaneity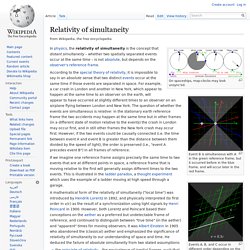 Event B is simultaneous with A in the green reference frame, but it occurred before in the blue frame, and will occur later in the red frame.
In physics , spacetime (also space–time , space time or space–time continuum ) is any mathematical model that combines space and time into a single continuum . Spacetime is usually interpreted with space as existing in three dimensions and time playing the role of a fourth dimension that is of a different sort from the spatial dimensions. From a Euclidean space perspective, the universe has three dimensions of space and one of time.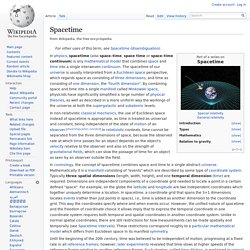 The invariant mass , rest mass , intrinsic mass , proper mass, or (in the case of bound systems or objects observed in their center of momentum frame ) simply mass, is a characteristic of the total energy and momentum of an object or a system of objects that is the same in all frames of reference related by Lorentz transformations . If a center of momentum frame exists for the system, then the invariant mass of a system is simply the total energy divided by the speed of light squared.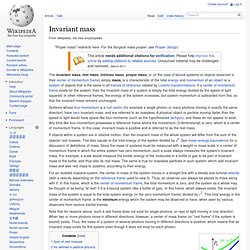 Invariant mass
Invariant mass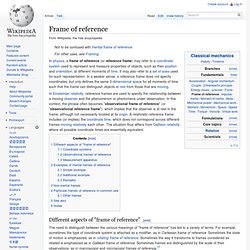 In physics , a frame of reference (or reference frame ) may refer to a coordinate system used to represent and measure properties of objects such as their position and orientation . It may also refer to a set of axes used for such representation.
Frame of reference
In relativity , proper time is the elapsed time between two events as measured by a clock that passes through both events.
Proper time
Proper length
In relativistic physics, proper length is an invariant measure of the distance between two spacelike -separated events , or of the length of a spacelike path within a spacetime . The measurement of lengths is more complicated in the theory of relativity than in classical mechanics . In classical mechanics, lengths are measured based on the assumption that the locations of all points involved are measured simultaneously.
Gravitomagnetism
Gravitoelectromagnetism , abbreviated GEM , refers to a set of formal analogies between the equations for electromagnetism and relativistic gravitation ; specifically: between Maxwell's field equations and an approximation, valid under certain conditions, to the Einstein field equations for general relativity .
Gravitation , or gravity , is the natural phenomenon by which physical bodies appear to attract each other with a force proportional to their masses .
Minkowski space
In mathematical physics , Minkowski space or Minkowski spacetime (named after the mathematician Hermann Minkowski ) is the mathematical setting in which Einstein's theory of special relativity is most conveniently formulated.
Minkowski diagram
Metric (mathematics)
Lorentz transformation
Pseudo-Riemannian manifold
Length contraction
Invariant (physics)
Inertial frame of reference
Geodesic (general relativity)
Four-vector
Four-momentum
Equivalence principle
Einstein manifold
Lorentz covariance