Financial Crisis News
Economics Essays: Understanding Financial Crisis. Readers Question.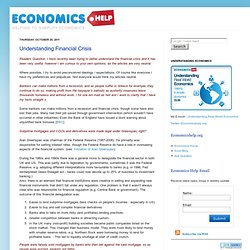 I have recently been trying to better understand the financial crisis and it has been very useful, however I am curious to your own opinions, as the articles are very neutral. Where possible, I try to avoid preconceived ideology / expectations. Understanding the economic crisis from a variety of points of view: University of Chicago faculty provide their perspectives. Index.cfm?FuseAction=Files. Great Recession may cost US economy $5,900 billions | Gavyn Davies | Insight into macroeconomics and the financial markets from the Financial Times. On macroeconomics Welcome.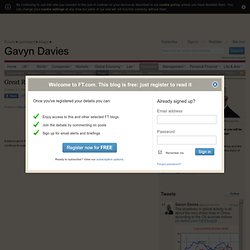 If you have yet to register on FT.com you will be asked to do so before you begin to read FT blogs. However, our posts remain free. A blog on macroeconomics, economic policymaking and the financial markets. Could this time have been different? (KEVIN LAMARQUE - REUTERS) Christina Romer had traveled to Chicago to perform an unpleasant task: she needed to scare her new boss.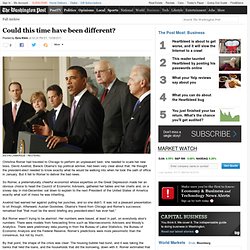 David Axelrod, Barack Obama's top political adviser, had been very clear about that. He thought the president-elect needed to know exactly what he would be walking into when he took the oath of office in January. But it fell to Romer to deliver the bad news. Inside the Obama Administration with Ezra Klein … and Mandelman. Okay, look… this article is long, I know.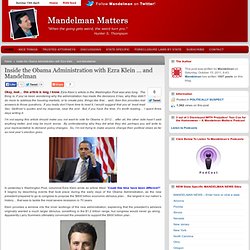 Ezra Klein's article in the Washington Post was also long. The thing is, if you've been wondering why the administration has made the decisions it has, why they didn't do more to address the housing markets, or to create jobs, things like that… well, then this provides real answers to those questions. If you really don't have time to read it, I would suggest that you at least read Sec.
---