Mlearning
In 1985, when Bruce Springsteen wrote "We learned more from a three-minute record than we ever learned in school," he was talking about the lure of whatever might be waiting outside every classroom around the world. That youthful feeling of the world passing you by — the things you were missing as you sat in a classroom day after day — is an age-old challenge for educators. It's one that's about to be subjected to an even greater assault as the digital generation moves deeper into education. The Internet was the first volley on the way a generation learned.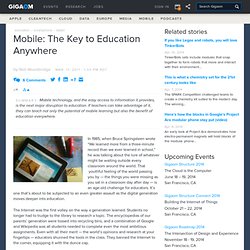 Mobile: The Key to Education Anywhere — Mobile Technology News
Five Myths of Mobile Learning
Mobile learning in developing countries in 2012: What's Happening? | A World Bank Blog on ICT use in Education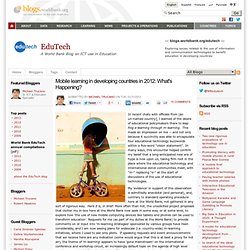 In recent chats with officials from [an un-named country], I learned of the desire of educational policymakers there to leap frog e-learning through m-learning. This made an impression on me -- and not only because it succinctly was able to encapsulate four educational technology buzzwords within a five-word "vision statement". In many ways, this encounter helped confirm my belief that a long-anticipated new era of hype is now upon us, taking firm root in the place where the educational technology and international donor communities meet, with "m-" replacing "e-" at the start of discussions of the use of educational technologies. My 'evidence' in support of this observation is admittedly anecdotal (and personal), and, contrary to standard operating procedure here at the World Bank, not gathered in any sort of rigorous way.