AWESOME
& so we sum it up & & so we ramble
Whenever I get a package of plain M&Ms, I make it my duty to continue the strength and robustness of the candy as a species. To this end, I hold M&M duels . Taking two candies between my thumb and forefinger, I apply pressure, squeezing them together until one of them cracks and splinters. That is the "loser," and I eat the inferior one immediately. The winner gets to go another round. I have found that, in general, the brown and red M&Ms are tougher, and the newer blue ones are genetically inferior.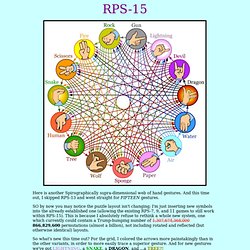 Here is another Spirographically supra-dimensional web of hand gestures. And this time out, I skipped RPS-13 and went straight for FIFTEEN gestures. SO by now you may notice the puzzle layout isn't changing; I'm just inserting new symbols into the already established one (allowing the existing RPS-7, 9, and 11 games to still work within RPS-15). This is because I absolutely refuse to rethink a whole new system, one which currently could contain a Trump-humping number of 1,307,674,368,000 866,829,600 permutations (almost a billion), not including rotated and reflected (but otherwise identical) layouts. So what's new this time out? For the grid, I colored the arrows more painstakingly than in the other variants, in order to more easily trace a superior gesture. This is such a TERRIBLE idea. Saw this and tried it. The chocolate needed to be melted, and the heat of it popped the balloons, made SUCH A MESS. A few stubborn attempts later, we had 2 chocolate balloons that hadn't popped.