Technology for Schools
Ten Steps to Transforming Past Lessons for 21st Century Learners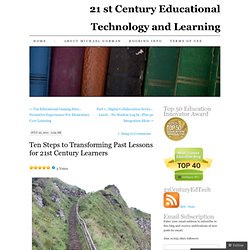 i 2 Votes
A couple of weeks ago, I received a surprising, but very pleasant, direct message on Twitter that went something like this, "Going to be in Surrey in a couple of weeks… want to get together?"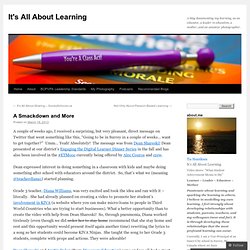 A Smackdown and More
Web tools from tony v
Alan November: How Teachers and Tech Can Let Students Take Control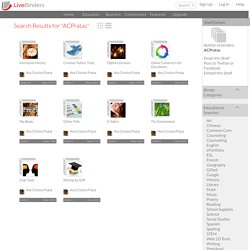 ACPratas's LiveBinders Shelf
Author of binders: ACPratas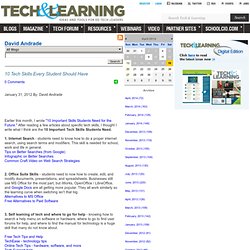 0 Comments
If you like this post, I would also recommend this one on making note card confession videos , or this one on making songs with your kids. Nothing fancy in this post, just the nuts and bolts of how to make an RSA Animate style video with your class!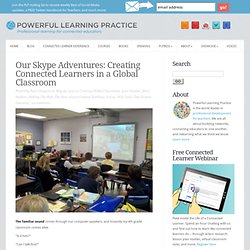 Our Skype Adventures: Creating Connected Learners in a Global Classroom
The familiar sound comes through our computer speakers, and instantly my 4th grade classroom comes alive. "Is it him?" "Can I talk first?"
100+ Registration Free Tools for Students
One of the common obstacles to using many Web 2.0 tools in elementary school and middle school classrooms is the registration requirement that those tools have. Fortunately, there are many good Web 2.0 tools that do not require registration. Nathan Hall has started to put together a Diigo list of Web 2.0 tools that do not require registration .
Summer Book Reads! via @Teachingwthsoul Lisa Dabbs - Google Docs
Top 10 Technology Blogs for Education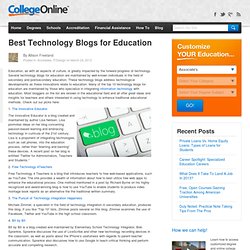 Education, as with all aspects of culture, is greatly impacted by the forward progress of technology. Several technology blogs for education are maintained by well-known individuals in the field of secondary and postsecondary education. These technology blogs address technological developments as these innovations relate to education.
Do you suffer from info overload?
20 Free and Fun Ways To Curate Web Content
Tech Tools & Sites For Teachers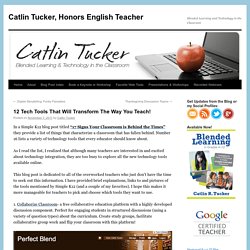 In a Simple K12 blog post titled "17 Signs Your Classroom is Behind the Times" they provide a list of things that characterize a classroom that has fallen behind. Number 16 lists a variety of technology tools that every educator should know about.
The new features listed below are now up on the LiveBinders site.
New Player/Editor Features are Live!
handout_quickguidetowebtools
Connecting School and Home: 360-Degree Communication
"Parenting is not for the faint of heart," novelist Harlan Coben (1) writes. Let's face it, parenting is really hard, especially when parents feel that "a vast and frightening Internet culture is hijacking their kids," as New York psychologist Ron Taffel (2) notes. Too Big to Know
There's no doubt about it, the iPad is a desirable product. Now the new staff have one it is clear excitement and enthusiasm abound.
Teacher's Trial by Tech – Staff Engagement Success?
Using Free Websites as Learning & Teaching Tools 1.
Dropbox is a very useful tool to store online files, sync your computers and mobile devices and share files.
Revisiting Cell Phone Bans in Schools
My Favorite Resources for Teachers and Students
P.E. Goes High-Tech
10 Sites to use with Mobile Phones in Education
Three TED talks, a look at Education Technology around the world. | Schoology Blog
YouTube
- 10 Essential Educational Resources for Teachers - my list
Digital Organization for Educators
Search Stories Makes Documenting Research Fun
ISTE Session Review - Extreme Web 2.0 Makeover by Steve Dembo
Five tools for global educators
GE Teach - Teaching With Google Earth
Driving Innovation in K-12 «
Helen Crompton Home Page
Top Five Lessons for the Digital Age - Transforming Learning
Assessing Technology Enhanced Projects
Khan Academy Videos Mapped to Common Core Standards
Publish a Combined iCloud Calendar and Google Calendar
Paperless – How I Teach From The Cloud « Mister Norris
What is Sandboxing?
The Dyslexic Professor
Ten Sites Supporting Digital Classroom Collaboration In Project Based Learning
Beyond the Transcript: Digital Portfolios Paint a Complete Picture
Lessons and Legacies from Stanford's Free Online Classes
Technology to Promote Thinking
Technology enhanced education
12 Education Tech Trends to Watch in 2012
12 Ways to Be More Search Savvy
Successful School Leaders Today Need to Harness Technology & Social Media
Battling skepticism.