Twitter subpona police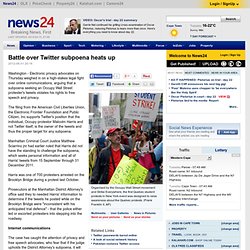 Washington - Electronic privacy advocates on Thursday weighed in on a high-stakes legal fight over online communications, arguing that a subpoena seeking an Occupy Wall Street protester's tweets violates his rights to free speech and privacy. The filing from the American Civil Liberties Union, the Electronic Frontier Foundation and Public Citizen, Inc supports Twitter's position that the individual, Occupy protestor Malcolm Harris and not Twitter itself, is the owner of the tweets and thus the proper target for any subpoena.
Battle over Twitter subpoena heats up
Legal battle over Twitter subpoena heats up
UPDATE: Twitter would not comment on this particular matter, but gave us this statement: "To help users protect their rights, it is our policy to notify our users about law enforcement and governmental requests for their information, unless we are prevented by law from doing so." The leaked subpoena sent to Twitter this month by the Suffolk District Attorney's Office in Boston is causing some hoopla on the web and raising the issue of law enforcement's access to online personal data.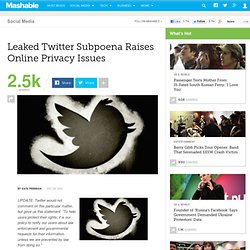 Leaked Twitter Subpoena Raises Online Privacy Issues