ACTA Rapporteur denonce ACTA mascarade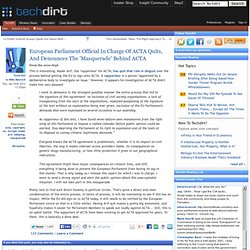 This is interesting. Kader Arif, the "rapporteur" for ACTA, has quit that role in disgust over the process behind getting the EU to sign onto ACTA.
European Parliament Official In Charge Of ACTA Quits, And Denounces The 'Masquerade' Behind ACTA
MEP quits ACTA 'charade' in protest at EU signing
A French MEP has quit the process of scrutinising ACTA for the European Parliament, calling the treaty's passage through the EU legislative system a masquerade.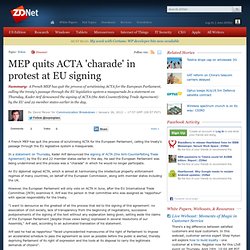 Numerama le révélait ce midi. Kader Arif, le rapporteur de l'ACTA au Parlement Européen, a décidé de démissionner par surprise de sa mission cruciale pour la ratification de l'accord anti-contrefaçon. C'est bien la signature de l'accord par l'Union Européenne à Tokyo ce jeudi qui a motivé sa décision.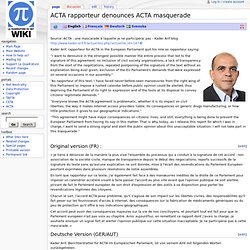 Source: ACTA : une mascarade à laquelle je ne participerai pas - Kader Arif blog http://www.kader-arif.fr/actualites.php?
ACTA rapporteur denounces ACTA mascarade - La Quadrature du Net