Megaupload taken down
Get flash to fully experience Pearltrees
La nature a horreur du vide.
De nouvelles inculpations pour escroqueries et violations des droits d'auteurs ont été formulées contre plusieurs responsables du site Megaupload.com, dont son fondateur Kim Schmitz , a annoncé vendredi le ministère de la justice américain. Ces nouvelles charges ont été ajoutées à l'acte d'accusation initial dévoilé par un tribunal de l' Etat de Virginie le 19 janvier dernier. Le ministère de la justice a indiqué que l'acte d'accusation supplétif fournissait de nouvelles preuves que le site internet était engagé dans une vaste opération de violation des droits d'auteur, mettant illégalement à disposition des internautes de nombreuses oeuvres protégées.
The authorities said Friday they have seized $50 million in Megaupload-related assets and added additional charges in one of the United States' largest criminal copyright infringement prosecutions. Megaupload, the popular file-sharing site, was shuttered last month and its top officials indicted by the Justice Department, just days after online protests scuttled a Congressional proposal to make changes to the internet to reduce online copyright infringement. Seven individuals connected to the Hong Kong-based site were indicted on a variety of charges, including criminal copyright infringement and conspiracy to commit money laundering.
Police in New Zealand have arrested four men after US authorities shut down the filesharing site Megaupload, including founder Kim Dotcom Link to video: Megaupload closure in US prompts New Zealand arrests The US government has closed down one of the world's largest filesharing websites, accusing its founders of racketeering, money laundering and presiding over "massive" online piracy . According to prosecutors, Megaupload illegally cheated copyright holders out of $500m in revenue as part of a criminal enterprise spanning five years.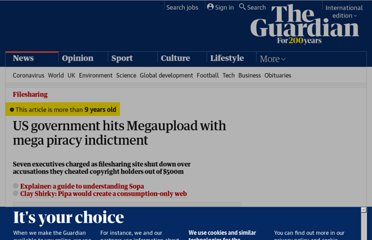 The recent Department of Justice decision to indict Megaupload for copyright infringement and related offenses raises some very thorny questions from a criminal law perspective.
La nouvelle ébranle des millions d'internautes du monde entier.
L' arrêt brutal de la galaxie Mega , et en particulier Megaupload et Megavideo, a fait couler beaucoup d'encre ces derniers jours. Nous pourrions ainsi discuter de longues heures sur la légitimité de fermer ou non ces sites.
Yesterday I wrote up a first reaction to the Megaupload case.
For more than a year, the Motion Picture Association of America and the Recording Industry Association of America have argued that existing laws were insufficient to deal with the problem of "rogue sites" hosted overseas. They've been pushing bills like the Stop Online Piracy Act (SOPA) and the PROTECT IP Act as essential weapons in the fight. But evidently, American law enforcement didn't get the memo that they were powerless against overseas file-sharing services.
Fermé en début d'année suite à l'opération de police menée conjointement par le FBI et la Nouvelle-Zélande, MegaUpload va être relancé dans les prochaines semaines ou les prochains mois, sans doute sous un nouveau nom. Il y a deux semaines, Kim Dotcom a annoncé que le nouveau MegaUpload serait " plus gros, plus sûr, plus rapide, 100 % sûr et inarrêtable ", et qu'il serait lancé cette année. Aujourd'hui, le fondateur du service d'hébergement de fichiers a annoncé qu'une API serait proposée aux développeurs qui souhaitent bâtir leurs propres services grâce aux fonctionnalités offertes par le successeur de MegaUpload. " Développeurs, préparez-vous.
Kim Schmitz devant un tribunal NZ