Japan Nuclear Plant situation
Fukushima : 40% des premiers liquidateurs n'avaient pas de dosimètre
Un ouvrier qui avait travaillé sur le site de la centrale nucléaire de Fukushima, une semaine après la catastrophe de l'an dernier, s'est aperçu que son taux de globules blancs a fortement augmenté, rapporte le quotidien japonais l'Asahi Shimbun. Or il ne portait pas de dosimètre, et cet homme dans la trentaine s'inquiète de ce qu'un éventuel futur cancer soit reconnu comme maladie professionnelle. Tepco, l'opérateur de la centrale, indique que 7.766 personnes ont travaillé sur le site de Fukushima n° 1 entre le 15 mars et le 31 mars 2011, dont 3.077 (39,6%) n'avaient pas de dosimètre.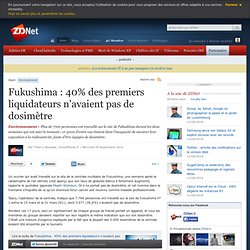 Fukushima nuclear power plant in Japan latest news updated in real-time by RSS feeds.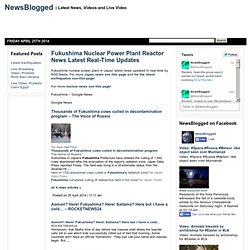 Fukushima Nuclear Power Plant Reactor Latest News Real-Time Updates
Fukushima nuclear crisis, six months later
Fukushima, 6 mois après : la catastrophe con
TEPCO applied for new reactors
Les communiques de la CRIIRAD
Scientist Fukushima worst case scenario
American Nuclear Society explanation
Understanding nuclear fusion
Japan's nuclear power operator has checkered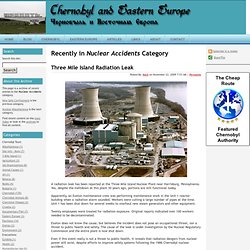 If you are one of the many people who believe that accidents at nuclear facilities are a thing of the past, think again. A friend passed along some information that France's Tricastin nuclear facility has been temporarily closed after approximately 30 cubic meters (75 kilograms) of liquid containing unenriched uranium spilled from an overflowing reservoir. The liquid seeped into the ground and also reached the Gaffiere and Lauzon rivers.
Chernobyl and Eastern Europe Blog: Nuclear Accidents Archives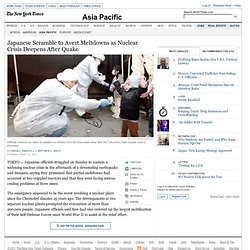 Japan Scrambles to Avert Nuclear Meltdowns
Kim Kyung-Hoon/Reuters Officials checked for signs of radiation on children from the evacuation area near the Fukushima Daini nuclear plant in Koriyama. The emergency appeared to be the worst involving a nuclear plant since the Chernobyl disaster 25 years ago.
hosted2.ap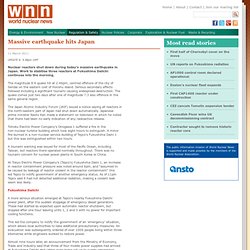 Massive earthquake hits Japan
UPDATE 8: 9.48pm GMT
Nuclear Crisis at Fukushima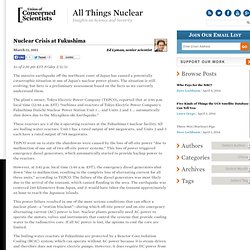 As of 2:30 pm EST Friday 3/11/11: The massive earthquake off the northeast coast of Japan has caused a potentially catastrophic situation at one of Japan's nuclear power plants. The situation is still evolving, but here is a preliminary assessment based on the facts as we currently understand them. The plant's owner, Tokyo Electric Power Company (TEPCO), reported that at 2:46 p.m. local time (12:46 a.m. EST) "turbines and reactors of Tokyo Electric Power Company's Fukushima Daiichi Nuclear Power Station Unit 1 … and Units 2 and 3 … automatically shut down due to the Miyagiken-oki Earthquake." These reactors are 3 of the 6 operating reactors at the Fukushima I nuclear facility.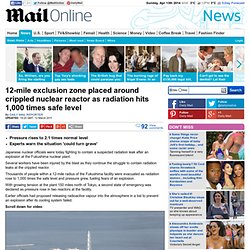 By Daily Mail Reporter UPDATED: 19:20 GMT, 12 March 2011 Pressure rises to 2.1 times normal levelExperts warn the situation 'could turn grave' Japanese nuclear officials were today fighting to contain a suspected radiation leak after an explosion at the Fukushima nuclear plant.
Japan earthquake and tsunami: State of emergency after nuclear power plant crippled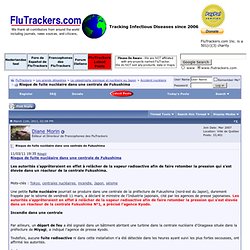 Disclaimers: The reader is responsible for discerning the validity, factuality or implications of information posted here, be it fictional or based on real events.
Séisme au Japon: Tokyo déclare une situation d'urgence nucléaire - Une petite fuite nucléaire pourrait s'être produite selon le ministre de l'Industrie, Banri Kaieda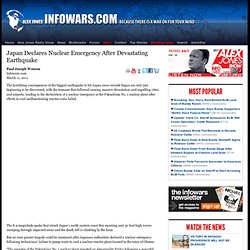 Paul Joseph Watson Infowars.com March 11, 2011 The horrifying consequences of the biggest earthquake to hit Japan since records began are only just beginning to be discovered, with the tsunami that followed causing massive devastation and engulfing cities and airports, leading to the declaration of a nuclear emergency at the Fukushima No. 1 nuclear plant after efforts to cool malfunctioning reactor cores failed.
» Japan Declares Nuclear Emergency After Devastating Earthquake Alex Jones
Direct : les côtes japonaises frappées par un tsunami
Libya revolt
Fukushima Nuclear Plant: Abnormality