Impressive pictures
Report: Fukushima's radiation damaged more souls than bodies. March 11 is the second anniversary of the great quake and tsunamiThe cancer risk rose only slightly in very small areas near the reactors, the WHO saysYoung men, who battled the plant disaster, may see a rise in thyroid cancerPeople exposed as children have a slightly elevated risk of certain cancers in their lifetimes (CNN) -- Two years ago, an 8.9-magnitude earthquake generated a tsunami of historic proportions that waylaid Japan's northeast coastline, including a nuclear power plant.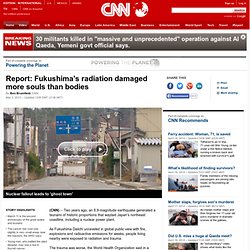 As Fukushima Daiichi unraveled in global public view with fire, explosions and radioactive emissions for weeks, people living nearby were exposed to radiation and trauma. The trauma was worse, the World Health Organization said in a report released Thursday on the health effects of the "Great East Japan Earthquake and Tsunami. " Japan earthquake and tsunami: photographs of devastated areas then and now. These three pictures show damage caused by the March 11, 2011 tsunami as seen from a hill overlooking the city of Kesennuma on March 16, 2011 (top), and the same area on Janury 14, 2012 (C) and on February 20, 2013.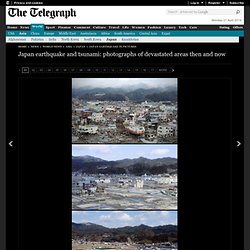 March 11, 2013 will mark the second anniversary of the massive earthquake and tsunami that pummelled Japan, claiming some 19,000 lives.Picture: PHILIPPE LOPEZ,TORU YAMANAKA,TOSHIFUMI KITAMURA/AFP/Getty Images. Phone and email records to be stored in new spy plan. Japan's crisis: one month later. Japan is just in the beginning of the long term recovery effort from the earthquake that struck off northeastern Japan on March 11.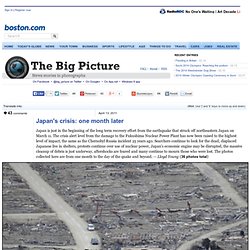 The crisis alert level from the damage to the Fukushima Nuclear Power Plant has now been raised to the highest level of impact, the same as the Chernobyl Russia incident 25 years ago. Searchers continue to look for the dead, displaced Japanese live in shelters, protests continue over use of nuclear power, Japan's economic engine may be disrupted, the massive cleanup of debris is just underway, aftershocks are feared and many continue to mourn those who were lost. Fukushima Daiichi Nuclear Plant Hi-Res Photos. Please do not link these photos to blogs and bulletin boards due to huge bandwidth wastage of many repetitive accesses.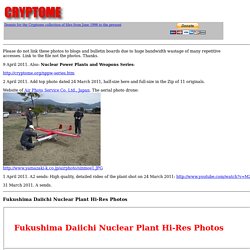 Link to the file not the photos. Thanks. Japan - New Fears as the Tragedy Deepens.
Vite dit. Les dégâts vus du ciel. 7b27e287-5bc7-4404-b5d3-e1aaed775da1_500. Yakitori-don time ! Miam. Terremoto de 8,9 Richter causa tsunami en Japón | Fotos HD v2.0 de Emol.com. Earthquake in Japan - Alan Taylor - In Focus. A massive 8.9-magnitude quake hit northeast Japan on Friday, causing dozens of deaths, more than 80 fires, and a 10-meter (33-ft) tsunami along parts of the country's coastline.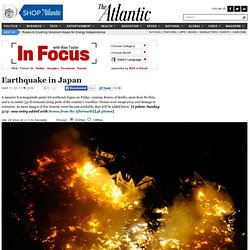 Homes were swept away and damage is extensive. As more images of this historic event become available, they will be added below. [Update, Sunday 3/13 - new entry added with Scenes from the Aftermath] [48 photos] Japan earthquake and tsunami: The moment mother nature engulfed a nation. By Daily Mail Reporter Created: 12:48 GMT, 11 March 2011 Japan was today plunged into chaos after a cataclysmic earthquake sent merciless tsunami waves rushing through its helpless streets.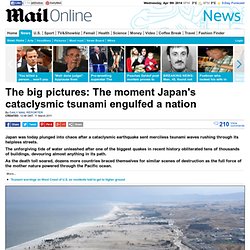 The unforgiving tide of water unleashed after one of the biggest quakes in recent history obliterated tens of thousands of buildings, devouring almost anything in its path. As the death toll soared, dozens more countries braced themselves for similar scenes of destruction as the full force of the mother nature powered through the Pacific ocean. Stretching into the distance, waves caused by the tsunami pour over the coastline and rush inland swamping all before them. 8m6k8n7f8q7z7. Seen from above, the awesome scale of Japan's destruction (big photo gallery) A whirlpool is seen near Oarai City, Ibaraki Prefecture, northeastern Japan, March 11, 2011.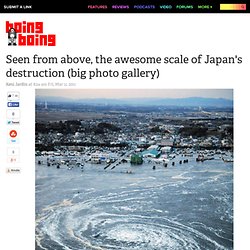 The biggest earthquake to hit Japan on record struck the northeast coast on Friday, triggering a 10-meter (33-foot) tsunami that swept away everything in its path, including houses, ships, cars and farm buildings on fire. (REUTERS/Kyodo ) Massive earthquake hits Japan. j7Ekj.jpg (JPEG Image, 1280x720 pixels) - Scaled (78. Pictures of the day: 11 March 2011. Japan earthquake and tsunami: The moment mother nature engulfed a nation.
---