Google Facial-Recognition sftwr
Google acquires Like.com
Google acquires PittPatt Facial recognition. Google making app that would identify people's faces. Google's Hartmut Neven, pictured here, says the company is working on a facial-recognition app.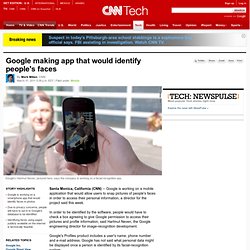 Google is working on a smartphone app that would identify faces in photos Due to privacy concerns, people will have to opt in to Google's database to be identified Identifying faces using pages publicly available on the internet is technically feasible Santa Monica, California (CNN) -- Google is working on a mobile application that would allow users to snap pictures of people's faces in order to access their personal information, a director for the project said this week. In order to be identified by the software, people would have to check a box agreeing to give Google permission to access their pictures and profile information, said Hartmut Neven, the Google engineering director for image-recognition development.
Google Not Planning To Release Mobile Face Recognition: Update. Contrary to what I reported earlier based on a seemingly very credible CNN report, Google is not planning to release a version of its mobile app Goggles with face recognition technology.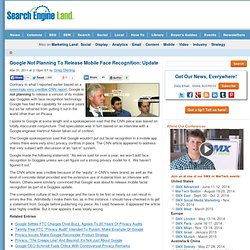 Google has had the capability for several years but so far refrained from putting it out in the world other than on Picasa. I spoke to Google at some length and a spokesperson said that the CNN piece was based on totally inaccurate conjuncture. That speculation was in turn based on an interview with a Google engineer Hartmut Neven taken out of context.
The Google spokesperson said that Google wouldn't put out facial recognition in a mobile app unless there were very strict privacy controls in place. The CNN article appeared to address that very subject with discussion of an "opt-in" system. Google To Acquire Like.com After Leaving Them At The Altar In 2005. In late 2005 Google was on the verge of acquiring a company called Riya – the first real attempt at image facial recognition and tagging for consumers.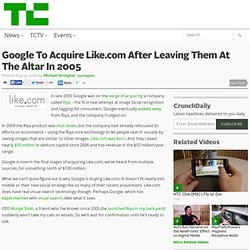 Google eventually walked away from Riya, and the company trudged on. In 2009 the Riya product was shut down, but the company had already refocused its efforts on ecommerce – using the Riya core technology to let people search visually by seeing images that are similar to other images. Like.com was born. And they raised nearly $50 million in venture capital since 2006 and has revenue in the $50 million/year range. It's Official: Google Acquires Like.com. It's official.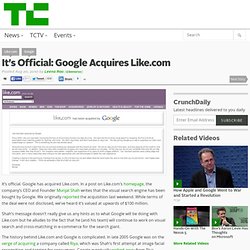 Google has acquired Like.com. In a post on Like.com's homepage, the company's CEO and Founder Munjal Shah writes that the visual search engine has been bought by Google. We originally reported the acquisition last weekend. While terms of the deal were not disclosed, we've heard it's valued at upwards of $100 million.
Why Google Decided to Create Its Own Facial-Recognition Privacy Problem | BNET.
---