Feds Subpoena Twitter acct Info
Twitter spying against EU law
Social Media and Subpoenas: The Loophole That Puts Journalistic Sources at Risk. The Department of Justice issued Twitter a subpoena for access to the accounts of Julian Assange and several others in relation to its investigation of the whistle-blower organization, which released roughly 2,000 classified cables.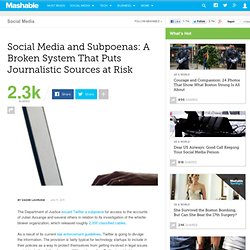 As a result of its current law enforcement guidelines, Twitter is going to divulge the information. The provision is fairly typical for technology startups to include in their policies as a way to protect themselves from getting involved in legal issues pertaining to the platform's users. With such a policy, Twitter is not held responsible, and in many ways it should not be. According to the media lawyers we interviewed, this kind of government request is not unique.
Iceland protest against US
ECPA reform: Why digital due process matters. Yesterday, the Senate held a hearing on proposed updates to the Electronic Communications Privacy Act, the landmark 1986 legislation that governs the protections citizens have when they communicate using the Internet or cellphones.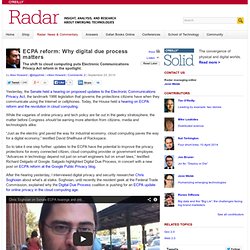 Today, the House held a hearing on ECPA reform and the revolution in cloud computing. While the vagaries of online privacy and tech policy are far out in the geeky stratosphere, the matter before Congress should be earning more attention from citizens, media and technologists alike. "Just as the electric grid paved the way for industrial economy, cloud computing paves the way for a digital economy," testified David Shellhuse of Rackspace.
So to take it one step further: updates to the ECPA have the potential to improve the privacy protections for every connected citizen, cloud computing provider or government employee. Thoughts on the DOJ wikileaks/twitter court order. The world's media has jumped on the news that the US Department of Justice has sought, and obtained a court order seeking to compel Twitter to reveal account information associated with several of its users who are associated with Wikileaks.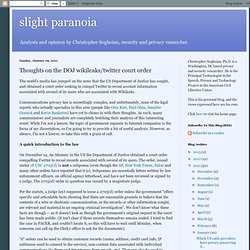 Communications privacy law is exceedingly complex, and unfortunately, none of the legal experts who actually specialize in this area (people like Orin Kerr, Paul Ohm, Jennifer Granick and Kevin Bankston) have yet to chime in with their thoughts. As such, many commentators and journalists are completely botching their analysis of this interesting event. While I'm not a lawyer, the topic of government requests to Internet companies is the focus of my dissertation, so I'm going to try to provide a bit of useful analysis. However, as always, I'm not a lawyer, so take this with a grain of salt. Twitter, and Reacting to DOJ's Wikileaks Court Order. There's a hint of poetry in the fact that Birgitta Jónsdóttir needed only a tweet to let the world know instantly that the U.S.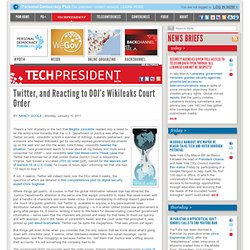 Department of Justice was after her Twitter records. Jónsdóttir is both a member of Althingi, Iceland's parliament, and someone who helped Wikileaks get its secretly-aquired government documents up on the web and out into the world. Late Friday, Jónsdóttir tweeted the situation: "usa government wants to know about all my tweets and more since november 1st 2009" -- and Jónsdóttir later told Wired.com's Threat Level that Twitter had informed her of that United States District Court in Alexandria, Virginia, had issued a so-called 2703 (d) order [pdf], named for the relevant part of Section 18 of U.S.
US subpoenas Twitter for accounts of two Wikileaks volunteers. The U.S.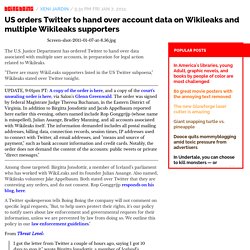 Justice Department has ordered Twitter to hand over data associated with multiple user accounts, in preparation for legal action related to Wikileaks. "There are many WikiLeaks supporters listed in the US Twitter subpoena," Wikileaks stated over Twitter tonight. UPDATE, 9:01pm PT: A copy of the order is here, and a copy of the court's unsealing order is here, via Salon's Glenn Greenwald. The order was signed by federal Magistrate Judge Theresa Buchanan, in the Eastern District of Virginia. US wants Twitter details of Wikileaks activists. 8 January 2011Last updated at 18:09 Wikileaks founder Julian Assange is currently fighting extradition from the UK to Sweden The US government has subpoenaed the social networking site Twitter for personal details of people connected to Wikileaks, court documents show.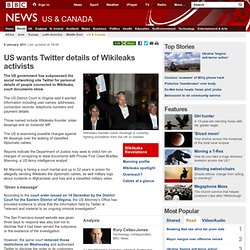 U.S. Subpoenas Twitter Over WikiLeaks Supporters. Ministers must 'wise up not clam up' after WikiLeaks disclosures | Politics. Civil servants and ministers need to 'be more proactive' in releasing information, Christopher Graham said.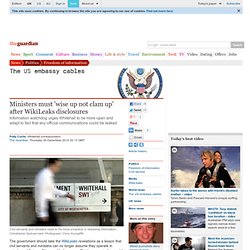 Photograph: Chris Young/PA The government should take the WikiLeaks revelations as a lesson that civil servants and ministers can no longer assume they operate in private, and "wise up" to a world where any official communication could be made public, according to the information commissioner. Christopher Graham, the independent freedom of information watchdog, told the Guardian that the website's disclosures had profoundly changed the relationship between state and public, in a way that could not be "un-invented". But he warned against "clamming up," saying the only response was for ministers to be more open.
Speaking after weeks of revelations from US embassy cables published by WikiLeaks, he said: "From the point of view of public scrutiny, the web and the internet has empowered citizens. U.S. Subpoenas Twitter Over WikiLeaks Supporters. What the Government Might Be After with Its Twitter Subpoena. After a member of Iceland's Parliament and former Wikileaks volunteer, Birgitta Jónsdóttir, revealed on Twitter yesterday that Twitter has been subpoenaed for details on her Twitter account, Glenn got a copy of the subpoena.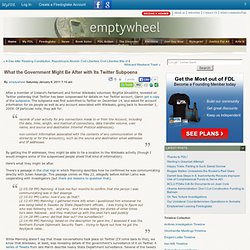 The subpoena was first submitted to Twitter on December 14, and asked for account information for six people as well as any account associated with Wikileaks, going back to November 1, 2009. Of particular note, they ask for: U.S. orders Twitter to hand over WikiLeaks records. U.S. Subpoenas Twitter Accounts of WikiLeaks Figures. The subpoena is the first public evidence of a criminal investigation, announced last month by Attorney General , that has been urged on by members of Congress of both parties but is fraught with legal and political difficulties for the Obama administration.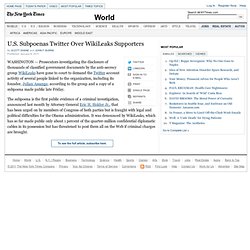 It was denounced by WikiLeaks, which has so far made public only about 1 percent of the quarter-million confidential diplomatic cables in its possession but has threatened to post them all on the Web if criminal charges are brought. Kettling Wikileaks. For current political commentary, see the daily political notes.
RMS' Bio | The GNU Project by Richard Stallman Note, a shortend version of this was previously published by the Guardian. Spanish Translation. Confirmed: #WikiLeaks demands Google and Facebook unseal US subpoenas (Guardian) US tells Twitter to hand over WikiLeaks supporter's messages | Media. Birgitta Jonsdottir, the Icelandic MP and former WikiLeaks volunteer, who is now fighting a US justice department attempt to get hold of her private messages on Twitter Photograph: Halldor Kolbeins/AFP/Getty Images A member of parliament in Iceland who is also a former WikiLeaks volunteer says the US justice department has ordered Twitter to hand over her private messages.
Birgitta Jonsdottir, an MP for the Movement in Iceland, said last night on Twitter that the "USA government wants to know about all my tweets and more since november 1st 2009. WikiLeaks demands Google and Facebook unseal US subpoenas | Media. WikiLeaks has demanded that Google and Facebook reveal the contents of any US subpoenas they may have received after it emerged that a court in Virginia had ordered Twitter to secretly hand over details of accounts on the micro-blogging site by five figures associated with the group, including Julian Assange.
Amid strong evidence that a US grand jury has begun a wide-ranging trawl for details of what networks and accounts WikiLeaks used to communicate with Bradley Manning, the US serviceman accused of stealing hundreds of thousands of sensitive government cables, some of those named in the subpoena said they would fight disclosure. "Today, the existence of a secret US government grand jury espionage investigation into WikiLeaks was confirmed for the first time as a subpoena was brought into the public domain," WikiLeaks said in a statement. Feds Subpoena Twitter Seeking Information on Ex-WikiLeaks Volunteer | Threat Level. The U.S. Justice Department has served Twitter with a subpoena seeking information on an Icelandic lawmaker who has worked with WikiLeaks and its founder Julian Assange, the lawmaker told Threat Level on Friday. "I got the letter from Twitter a couple of hours ago, saying I got 10 days to stop it," wrote Birgitta Jonsdottir, a member of Iceland's parliament, in an e-mail.
"Looking for legal ways to do it. Will be talking to lawyers from EFF tonight." EFF refers to the Electronic Frontier Foundation, a non-profit civil liberties group in the United States.
---