EU signed ACTA
ACTA workshop in the European Parliament · europarl_en. L'Acta, un traité anti-contrefaçon flou et contesté débattu au parlement européen. Des milliers manifestants ont de nouveau défilé en Europe le week-end dernier pour protester contre l'ACTA, le traité de luttre contre la contrefaçon de marchandises et de fichiers numériques, qui est débattu cette semaine au parlement européen.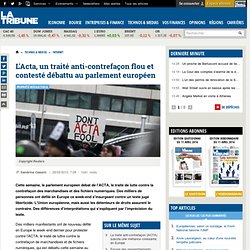 Lundi soir, l'association de défense du citoyen internationale Avaaz.org a annoncé avoir fait signer 2,5 millions de personnes contre le traité. Ce mouvement de protestation est inédit à l'égard d'un traité plutôt obscur pour le commun des mortels. Un texte dangereux parce que flou Deux thèses s'affrontent sur l'interprétation d'un texte, qualifié de liberticide pour les uns et de non événement pour les autres.
INTA%20-%20ACTA%20assessment. ACTA - now the EU Parliament's petitions committee will have a look. ACTA in the news again (see earlier ACTA related IPKat posts here) and things are still confusing.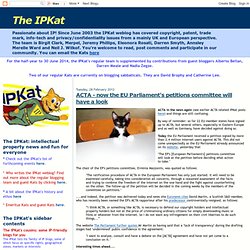 By way of reminder: so far 22 EU member states have signed up to ACTA, but several others, especially in Eastern Europe and as well as Germany, have decided against doing so. Today the EU Parliament received a petition signed by more than 2.4 million Internet users against ACTA. This did not come unexpectedly as the EU Parliament already announced on its website, yesterday that "The EP's [European Parliament's] petitions committee will look at the petition before deciding what action to take.
" The chair of the EP's petitions committee, Erminia Mazzoniis, was quoted as follows:
Europe against ACTA
We need CopyR reform not ACTA. ACTA Update II. Although ACTA is billed as a global treaty, there are only two participants that really matter: the US and the European Union.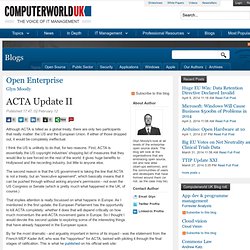 If either of those dropped out, it would be completely ineffectual. I think the US is unlikely to do that, for two reasons. First, ACTA is essentially the US copyright industries' shopping list of measures that they would like to see forced on the rest of the world: it gives huge benefits to Hollywood and the recording industry, but little to anyone else.
SOPA's big brother signed by EU nations amid widespread protests. News By Jennifer Baker January 26, 2012 12:31 PM ET IDG News Service - The European Union signed up to the controversial Anti Counterfeiting Trade Agreement (ACTA) on Thursday despite widespread opposition, particularly in Poland, where people took to the streets in protest.
The agreement was officially signed in Tokyo by 22 European member states. Cyprus, Estonia, Slovakia, Germany and the Netherlands did not sign, but committed to do so in the near future, according to the European Parliament's Green party. An ACTA of war: Secret censor tool to shake up world wide web. Published time: January 24, 2012 17:40 Edited time: April 20, 2012 12:01 A demonstrator with ACTA stickers on his mouth takes part in a protest against Poland's government plans to sign international copyright agreement ACTA (Anti-Counterfeiting Trade Agreement), in front of the European Union office in Warsaw on January 24, 2012 (AFP Photo / JANEK SKARZYNSKI) As cyberspace turns its attention to the SOPA and PIPA bills in the US, the Anti-Counterfeiting Trade Agreement, or ACTA, has been quietly signed or ratified by most of the developed world and is arguably the biggest threat to Internet freedom yet. ­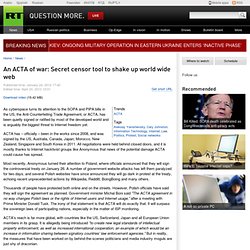 ACTA has – officially – been in the works since 2008, and was signed by the US, Australia, Canada, Japan, Morocco, New Zealand, Singapore and South Korea in 2011. All negotiations were held behind closed doors, and it is mostly thanks to Internet hacktivist groups like Anonymous that news of the potential damage ACTA could cause has spread. ACTA Anti Counterfeiting Trade Agreement ISP PolicingMax Farquar. After the huge online protests in the USA, against the extremist SOPA and PIPA internet copyright bills, the European Parliament has already started working on their global counterpart.
It's called the Anti-Counterfeiting Trade Agreement. ACTA is yet another offensive against the sharing of culture on the Internet. ACTA is an agreement that has been secretly created by a small "club" of 39 like-minded countries. Including 27 members of the European Union, the United States and Japan. EU Signs ACTA, But Treaty Remains in Doubt. The European Union Signed ACTA today – months after withholding its signature at the official signing ceremony in Japan.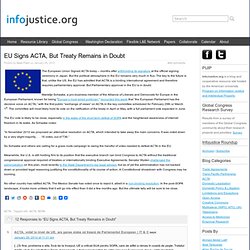 But the political atmosphere in the EU remains very much in flux. The key to the future is that, unlike the US, the EU has admitted that ACTA is a binding international agreement and therefore requires parliamentary approval. But Parliamentary approval in the EU is in doubt.
UK signs ACTA as activists urge resistance | Networking. The UK and 21 other European Union member states have signed the Anti-Counterfeiting Trade Agreement, better known as ACTA.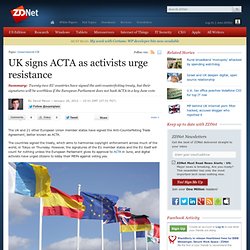 The countries signed the treaty, which aims to harmonise copyright enforcement across much of the world, in Tokyo on Thursday. However, the signatures of the EU member states and the EU itself will count for nothing unless the European Parliament gives its approval to ACTA in June, and digital activists have urged citizens to lobby their MEPs against voting yes. Only five EU countries did not sign ACTA, which aims to harmonise copyright enforcement. Poland, which was one of the signatories, saw thousands demonstrate in the streets on Wednesday, protesting against the signing.
---