DSK charged for link to prostitution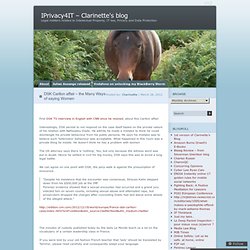 DSK Carlton affair – the Many Ways of saying Women
http://edition.cnn.com/2012/12/19/world/europe/france-dsk-carlton-case/index.html?eref=edition&utm_source=twitterfeed&utm_medium=twitter The minutes of custody published today by the daily Le Monde teach us a lot on the vocabulary of a certain leadership class in France. If you were told by your old fashion French teacher that 'lady' should be translated by 'femme', please read carefully and consequently adapt your language. Dominique Strauss-Kahn, former head of the IMF, referres to young ladies as "luggage" and "gifts" when planning his alleged sex orgies according to a leaked transcript of the police questioning. He is a man of efficiency.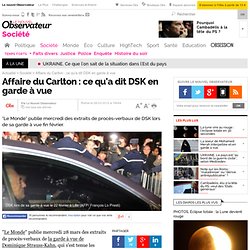 Affaire du Carlton : ce qu'a dit DSK en garde à vue
" Le Monde " publie mercredi 28 mars des extraits de procès-verbaux de la garde à vue de Dominique Strauss-Kahn , qui s'est tenue les mardi 21 et mercredi 22 février dernier à Lille, dans le cadre de l'affaire du Carlton. Il y est notamment question de très nombreux textos échangés entre DSK et son ami et entrepreneur du Pas-de-Calais Fabrice Paszkowski, mis en examen le 21 octobre dans ce dossier puis remis en liberté début février . Des "parties fines" organisées spécialement pour lui ?
Strauss-Kahn on bail in French sex case
Strauss-Kahn probed on 'aggravated pimping'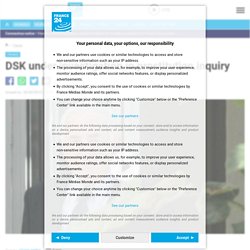 REUTERS - Former IMF chief Dominique Strauss-Kahn was placed under formal investigation on Monday by authorities looking into a suspected prostitution ring in the French city of Lille, his lawyer said, following a day of questioning by judges in a closed courtroom. The investigation on suspicion of complicity in a pimping operation is the latest judicial headache for the Socialist ex-finance minister. The move could lead to a trial but it falls short of charging him. Strauss-Kahn, 62, who was a strong contender to be France's next president until he was hit with sex-assault charges, now-dismissed, in New York last May, was allowed to leave the court after being questioned by three judges in the case. The Lille prosecutor's office said in a statement he was required to post 100,000 euros ($133,300) in bail. He is forbidden to contact witnesses, the press, and others involved in the prostitution case, it said.
DSK under investigation in prostitution inquiry - FRANCE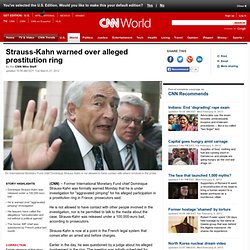 Strauss-Kahn warned over alleged prostitution ring
Ex-International Monetary Fund chief Dominique Strauss-Kahn is not allowed to have contact with others involved in the probe. Dominique Strauss-Kahn was released under a 100,000 euro bail He is warned over "aggravated pimping" investigation His lawyers have called the allegations "sensationalist and not without a political agenda" The former IMF chief was questioned by French police last month (CNN) -- Former International Monetary Fund chief Dominique Strauss-Kahn was formally warned Monday that he is under investigation for "aggravated pimping" for his alleged participation in a prostitution ring in France, prosecutors said.
DSK Lawyers: Lust Isn't a Crime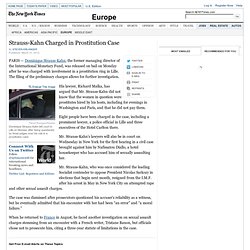 Pascal Rossignol/Reuters Dominique Strauss-Kahn left court in Lille on Monday after being questioned by three judges over his role in a prostitution case. His lawyer, Richard Malka, has argued that Mr.
Dominique Strauss-Kahn Released on Bail
Dominique Strauss-Kahn charged over alleged links with prostitution ring | World news
Dominique Strauss-Kahn's lawyer, Richard Malka, denies charges that the former IMF chief is linked with a prostitution ring Link to video: Dominique Strauss-Kahn denies prostitution links A French judge has charged the former head of the International Monetary Fund Dominique Strauss-Kahn over his alleged links with a prostitution ring. In a surprise hearing – two days before he had been officially summoned – the veteran French politician was placed under formal investigation and told he faced further questioning on charges of "complicity in aggravated and organised prostitution" and "misuse of company assets". Investigators want to establish if Strauss-Kahn knew the girls he has admitted having sex with during "libertine" parties in various cities including Paris and Washington, were paid. Strauss-Kahn, 62, has denied having any such knowledge and denied any wrongdoing.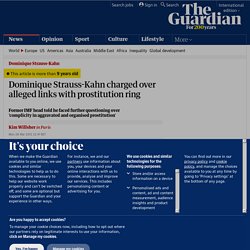 Strauss-Kahn gets preliminary charges in prostitution probe
Dominique Strauss-Kahn charged: Aggravated pimping charges on ex-IMF head
By Autria Godfrey March 26, 2012 - 05:36 pm ABC7, AP — In the latest saga surrounding former IMF head and one-time French presidential candidate, Dominique Strauss-Kahn faces charges for procuring prostitutes for hotel "orgy parties" in both Paris and Washington, D.C. Continue reading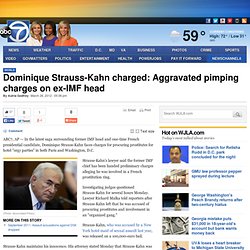 L'ancien directeur général du FMI, Dominique Strauss-Kahn L'audience avait été avancée de deux jours et le résultat est tombé dans la soirée. L'ancien patron du FMI Dominique Strauss-Kahn a été mis en examen ce lundi 26 mars pour "proxénétisme en bande organisée" par les juges en charge de l'affaire dite du Carlton de Lille, ont annoncé ses avocats, qui entendent faire appel de cette mise en examen. Placé sous contrôle judiciaire, DSK échappe néanmoins à la détention provisoire et est ressorti libre de son audition au Palais de justice de Lille, aux alentours de 22h. Enquêtant sur l'affaire du Carlton , une vaste investigation autour d'un réseau de proxénétisme mêlant notables, policiers et avocats du Nord, les magistrats qui instruisent le dossier cherchent à déterminer si l'ancien directeur général du Fonds monétaire international savait que les participantes à des soirées libertines auxquelles il avait pris part, notamment à Paris et Washington, étaient rémunérées.
DSK mis en examen à Lille dans le cadre de l'affaire Carlton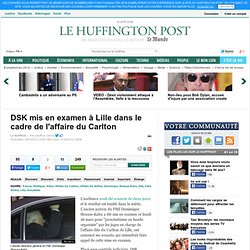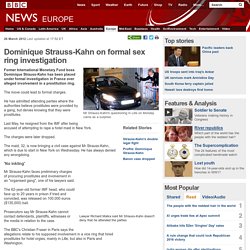 Dominique Strauss-Kahn questioned over prostitution gang
26 March 2012 Last updated at 17:52 ET Mr Strauss-Kahn's questioning in Lille on Monday came as a surprise Former International Monetary Fund boss Dominique Strauss-Kahn has been placed under formal investigation in France over alleged involvement in a prostitution ring.