day 3 report
Get flash to fully experience Pearltrees
Survivor found 10 miles on sea
Our thoughts, sympathy, and support go out to those in Japan affected by Friday's powerful earthquake and resulting tsunami. On our Twitter Japan blog , we share tips and resources to help people around the world provide support and share and follow important information. The post is in both Japanese and English.
What can Japan do about its reactor? NEW: An official cites a "possibility of a meltdown" at 2 reactors in the same facility 2.5 million without power Sunday, down from 6 million, an ambassador says An official says that a third reactor at a troubled nuclear facility has failed The official death toll is 763, but it may be higher, and 9,500 in a town are missing Shirakawa, Japan (CNN) -- Japanese authorities are operating on the presumption that possible meltdowns are under way at two nuclear reactors, a government official said Sunday, adding that there have been no indications yet of hazardous emissions of radioactive material into the atmosphere.
Straight from the Kenneth Cole School of Capitalising On Human Suffering To Promote Your Brand comes Bing 's #SupportJapan campaign, which this weekend offered to donate $1 to Japanese earthquake victims each time their original post was retweeted.
Updated: March 13, 2011 10:45 p.m. A day after Japan was hit by a double blow — a monster earthquake followed by a killer tsunami — the full extent of death and destruction is still unclear. By 8 a.m.
スクリーン リーダーをご利用の場合: プレーン HTML はここをクリックしてください
Please scroll down to the bottom of the page for the live-blogging of the day's events. AFP - Japan battled a feared meltdown of two reactors at a quake-hit nuclear plant Sunday, as the full horror began emerging of the disaster on the ravaged northeast coast where more than 10,000 were feared dead.
Please make a donation to the Syria Crisis Appeal Violence has brought death and destruction to Syria, and millions of people have been displaced from their homes or have fled the country. The Syrian Arab Red Crescent is working tirelessly to distribute food, blankets and to provide emergency and basic health care, to people in need.
Red Cross earthquake response efforts continue in Japan. On Friday March 11, 2011, a 9.0 magnitude earthquake hit Japan.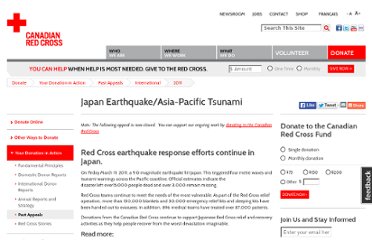 Development: Andrew Kesper Source: Google