Computer security
PCs infected in Chinese factories
Audio and Video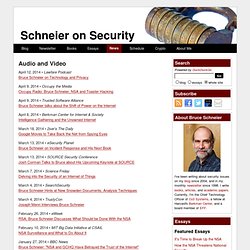 April 12, 2014 • Lawfare PodcastBruce Schneier on Technology and Privacy April 9, 2014 • Occupy the MediaOccupy Radio: Bruce Schneier, NSA and Toaster Hacking April 9, 2014 • Trusted Software AllianceBruce Schneier talks about the Shift of Power on the Internet
Password Safe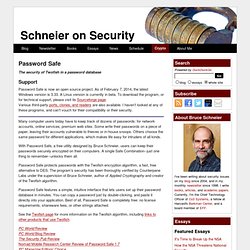 The security of Twofish in a password database Support Password Safe is now an open source project. As of February 7, 2014, the latest Windows version is 3.33. A Linux version is currently in beta.
A blog covering security and security technology. HEADWATER: NSA Exploit of the Day Today's implant from the NSA's Tailored Access Operations (TAO) group implant catalog: HEADWATER (TS//SI//REL) HEADWATER is a Persistent Backdoor (PDB) software implant for selected Huawei routers.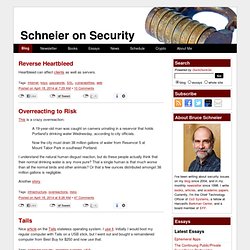 Videos - E-crime Expert
Cookies Tutorial to Protect Your Privacy, Delete Your Cookie Crumbs
General Security Information - How to tighten Security Settings and Warnings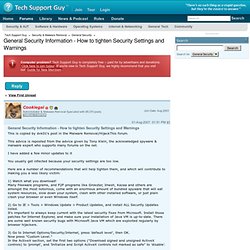 This is copied by dvk01's post in the Malware Removal/HijackThis forum. This advice is reposted from the advice given by Tony Klein, the acknowledged spyware & malware expert who supports many forums on the net. I have added a few minor updates to it You usually get infected because your security settings are too low.