Computer security
PCs infected in Chinese factories
Audio and Video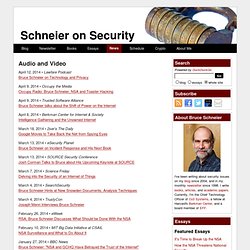 April 12, 2014 • Lawfare PodcastBruce Schneier on Technology and Privacy April 9, 2014 • Occupy the MediaOccupy Radio: Bruce Schneier, NSA and Toaster Hacking April 9, 2014 • Trusted Software AllianceBruce Schneier talks about the Shift of Power on the Internet
Password Safe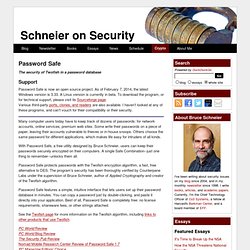 The security of Twofish in a password database Support Password Safe is now an open source project. As of February 7, 2014, the latest Windows version is 3.33. A Linux version is currently in beta.
This is an update to my earlier post. Cloudflare is reporting that it's very difficult, if not practically impossible, to steal SSL private keys with this attack. Here's the good news: after extensive testing on our software stack, we have been unable to successfully use Heartbleed on a vulnerable server to retrieve any private key data. Note that is not the same as saying it is impossible to use Heartbleed to get private keys.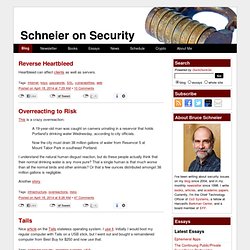 Videos - E-crime Expert
Cookies Tutorial to Protect Your Privacy, Delete Your Cookie Crumbs
General Security Information - How to tighten Security Settings and Warnings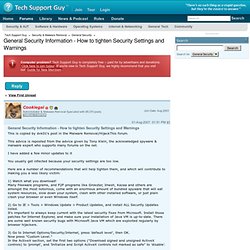 This is copied by dvk01's post in the Malware Removal/HijackThis forum. This advice is reposted from the advice given by Tony Klein, the acknowledged spyware & malware expert who supports many forums on the net. I have added a few minor updates to it You usually get infected because your security settings are too low.