CNET SV cars grabbed locations of phones,PC'
Street View cars grabbed locations of phones, PCs | Privacy Inc. Scoop Google's Street View cars collected the locations of millions of laptops, cell phones, and other Wi-Fi devices around the world, a practice that raises novel privacy concerns, CNET has confirmed.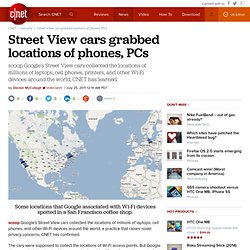 The cars were supposed to collect the locations of Wi-Fi access points. But Google also recorded the street addresses and unique identifiers of computers and other devices using those wireless networks and then made the data publicly available through Google.com until a few weeks ago . The French data protection authority, known as the Commission Nationale de l'Informatique et des Libertés (CNIL) recently contacted CNET and said its investigation confirmed that Street View cars collected these unique hardware IDs.