CNET SV cars grabbed locations of phones,PC'
Street View cars grabbed locations of phones, PCs | Privacy Inc.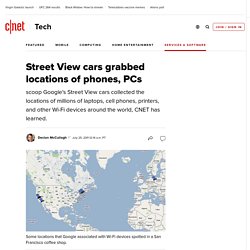 Some locations that Google associated with Wi-Fi devices spotted in a San Francisco coffee shop. scoop Google's Street View cars collected the locations of millions of laptops, cell phones, and other Wi-Fi devices around the world, a practice that raises novel privacy concerns, CNET has confirmed. The cars were supposed to collect the locations of Wi-Fi access points.