PDHPE - iPad/iPod Apps #PEgeeks
Get flash to fully experience Pearltrees
HPE Apps - Study Resources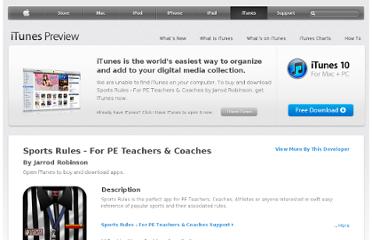 Description Sports Rules is the perfect app for PE Teachers, Coaches, Athletes or anyone interested in swift easy reference of popular sports and their associated rules. The app contains 18 of the most common sports played in Physical Education classrooms with the fundamental rules and other important information required to play a game. Teachers can confidently and quickly review rules in preparation for their classes or share the app with students to involve them in the umpiring role.
Description Do you teach, coach or organise groups of people? Do you need to organise them into smaller groups for different tasks or activities.
Description The Swap It, Don't Stop It app allows you to choose from a range of food and physical activity swaps. You can set up alerts to remind you when it's time to make a swap – it could be getting off the bus a couple of stops early and walking the rest of the way or swapping that afternoon chocolate bar for a piece of fruit. You can even create your own swaps! The Swap It app offers: · The ability to track your progress and earn badges as you reach milestones as a swapper
Description iFirstAid. First Aid on your iPhone. * Now with voice instructions, a CPR timer and slick new interface! iFirstAid Lite is a FREE, Emergency First Aid assistant which includes essential First Aid topics: - Bleeding
Description sprintTimer is a unique timer and photo finish app that employs the same techniques as the professional equipment used at the Olympics. Start the timer and point the camera towards the finish line. sprintTimer will build an image of narrow slices of the finish line. You can then scroll along the photo to get the time when each competitor crosses the finish line with a 0.01 s resolution. sprintTimer also includes a motion controlled Lap Timer and a Video Finish tool for longer races.