Ça bouge
The hate of men will pass, and dictators die... (Inspiring words from Charlie Chaplin)
Le discours du barbier
Derniers articles [Politique] Le Parti Pirate va faire reconnaître l'inconstitutionnalité du vote électronique L'élection des députés des Français de l'étranger a relancé le débat du vote électronique. Le Parti Pirate s'est toujours exprimé contre ces systèmes qui sont vulnérables à la fraude, et les très nombreux incidents et irrégularités du vote par Internet ont propulsé ce thème de campagne sur le devant de la scène. En parallèle de l'excellent travail de son équipe de candidats des français de l'étranger, qui ont déposé un recours pour faire invalider l'élection, le Parti Pirate vient de lancer une procédure pour mettre un terme définitif au vote électronique. Le concept de vote électronique semble séduisant au premier abord : pouvoir s'affranchir des contraintes de dépouillement avec les machines à voter électronique, et ne plus avoir à se déplacer grâce au vote par Internet, présenterait un avantage certain.
[Parti Pirate]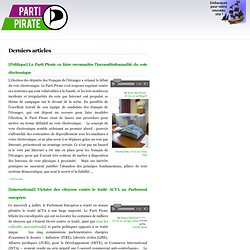 Glad you liked it. Would you like to share? Share No thanks Add New Comment Showing 5 of 114 comments
Posters from the #Occupy movement – occuprint
paris.reelledemocratie
Parallels is a worldwide leader in virtualization and automation software that optimizes computing for consumers, businesses, and Cloud services providers across all major hardware, operating systems, and virtualization platforms. For the Cloud, Parallels automation and virtualization software enables cloud services providers to rapidly and profitably deliver the widest range of cloud services that small businesses want and need. Our software includes key building blocks of cloud service delivery - self service control panels, billing, cloud service provisioning and virtualization. We enable the delivery of all types of services that small businesses need - shared web hosting and web applications, messaging and collaboration services, virtualized infrastructure services and thousands of other applications. Our Automation products allow businesses to optimize their systems to maximize profit.
Actualutte
OWNI Fr