Recruter & Manager des ...gens...
Pourquoi les talents partent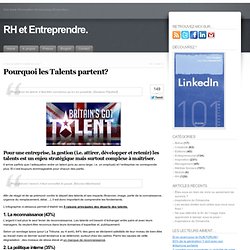 Pour avoir du talent, il faut être convaincu qu'on en possède. [Gustave Flaubert] Pour une entreprise, la gestion (i.e. attirer, développer et retenir) les talents est un enjeu stratégique mais surtout complexe à maîtriser. Il arrive parfois que l'adéquation entre un talent (pris au sens large, i.e. un employé) et l'entreprise ne corresponde plus. Et c'est toujours dommageable pour chacun des partis.
Claire-M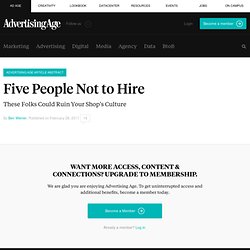 I hate hiring people. Even though I like what it means -- when we're hiring, we're growing -- the whole process is fraught with peril. Sure, hiring is an opportunity to improve our organization, bring in new skills and new energy, and generally elevate our offering.
Five People Not to Hire | Agency News
Pensée du jour : Talent attracts talent. Culture
Innover, prendre des risques, plonger dans l'inconnu, accepter de se transformer, c'est difficile pour toute organisation. C'est même impossible si l'équipe n'est pas soudée autour de son objectif. C'est ce qu'expliquent deux grands spécialistes du management d'entreprise G. Michael Maddock et Raphael Louis Vitón dans la rubrique Innovation Engine (le moteur de l'innovation) réalisée en commun par le magazine Businessweek et l'agence Bloomberg.
Psychologie: les trois types de personnes qui font obstacle à l'innovation