Partie II
Ten things every journalist should know in 2010 | Journalism.co. This is an update on a post I wrote at the beginning of last year – Ten things every journalist should know in 2009.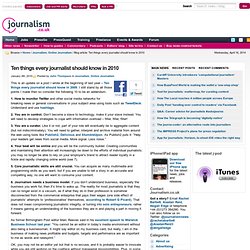 I still stand by all those points I made then so consider the following 10 to be an addendum. 1. Ten things every journalist should know in 2009 | Journalism.co. 1.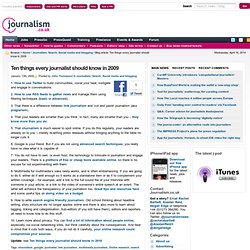 How to use Twitter to build communities, cover your beat, instigate and engage in conversations. 2. Usage social media par jstes 0210. The discussions in many newsrooms about social media often focus on whether or not it is appropriate for journalists to have a presence in social networks.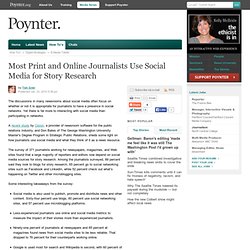 Yet there is far more to interacting with social media than participating in networks. A recent study by Cision, a provider of newsroom software for the public relations industry, and Don Bates of The George Washington University Master's Degree Program in Strategic Public Relations, sheds some light on how journalists use social media and what they think of it as a news resource. The survey of 371 journalists working for newspapers, magazines, and Web sites found that a large majority of reporters and editors now depend on social media sources for story research. Among the journalists surveyed, 89 percent said they look to blogs for story research, 65 percent go to social networking sites such as Facebook and LinkedIn, while 52 percent check out what's happening on Twitter and other microblogging sites.
Ecrire pour le Web en 2010. Contenus on demand - Buzz Média. Luca Ascani, PDG et fondateur de l'entreprise de média online GoAdv, était l'invité du Buzz média Orange-Le Figaro ce lundi.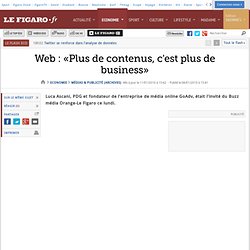 «Plus on fait de contenus, plus on génère de business», lance Luca Ascani. Ce jeune entrepreneur du Web, âgé de 30 ans, est aujourd'hui à la tête du groupe de médias online GoAdv qu'il a cofondé avec Salvatore Esposito en 2004. News Reader - RWW. From TV to Tivo and Hulu, from the mall to Amazon and eCommerce and from newspaper carriers and delivery trucks to online syndication and subscription - distribution of goods, services and information has changed a lot thanks to the internet.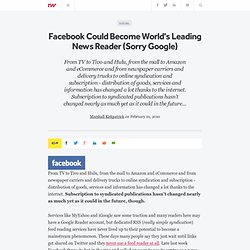 Subscription to syndicated publications hasn't changed nearly as much yet as it could in the future, though. Services like MyYahoo and iGoogle saw some traction and many readers here may have a Google Reader account, but dedicated RSS (really simple syndication) feed reading services have never lived up to their potential to become a mainstream phenomenon. These days many people say they just wait until links get shared on Twitter and they never use a feed reader at all. Late last week Facebook threw its hat in the ring and called on users to use its service as a news feed reader. There are a number of reasons why Facebook could be the strongest online subscription option yet.
Chf visites from Google. Les éditeurs de presse râlent depuis longtemps contre Google qu'ils accusent de piraterie éditoriale dans son service Google News pour profiter d'une manne publicitaire qu'il a su fabriquer en réussissant sa ré-intermédiation du 4ème pouvoir.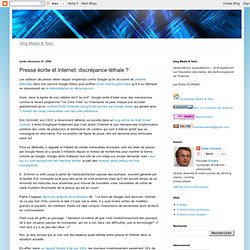 Alors, dans la lignée de son célèbre don't be evil", Google tente d'aider avec des mécanismes comme le récent programme "1st Click Free" où l'internaute ne peut chaque jour accéder gratuitement qu'un nombre limité d'articles lorsqu'il est envoyé par Google News qui génère ainsi 1 milliard de vistes mensuelles vers les sites éditoriaux. Eric Schmidt, son CEO, a récemment défendu sa société dans un long article du Wall Street Journal: il tente d'expliquer finalement que c'est plutôt l'Internet et ses mécanismes d'optimisation extrême des coûts de production et distribution de contenu qui sont à blâmer plutôt que sa compagnie en elle-même.
Par sa position de figure de proue, elle est devenue bouc émissaire selon lui! Visites from FB vs Google.
---