Mesopotamia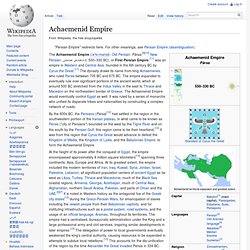 The Achaemenid Empire ( pron.: / ə ˈ k iː m ə n ɪ d / ; Old Persian : Parsā , name of ruling dynasty: Haxāmanišiya ) (c. 550–330 BC), also known as the First Persian Empire , was a Persian empire in Western Asia , founded in the 6th century BC by Cyrus the Great who overthrew the Median confederation . The dynasty draws its name from king Achaemenes , who ruled Persia between 705 BC and 675 BC.
Babylonia was an ancient Akkadian speaking Semitic nation state and cultural region based in central-southern Mesopotamia (present-day Iraq ). It emerged as an independent state circa 1894 BC, the city of Babylon being its capital. It was often involved in rivalry with its fellow Akkadian state of Assyria in northern Mesopotamia.
Babylonia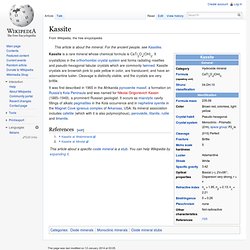 Kassite is a rare mineral with formula CaTi 2 O 4 (OH) 2 . It crystallizes in the orthorhombic crystal system and forms radiating rosettes and pseudo-hexagonal tabular crystals which are commonly twinned .
Kassite
Neo-Assyrian Empire
The Neo-Assyrian Empire was an empire in Mesopotamian history which began in 934 BC and ended in 609 BC. [ 1 ] During this period, Assyria assumed a position as the most powerful state on earth, successfully eclipsing Babylonia , Egypt , Urartu / Armenia [ 2 ] and Elam for dominance of the Near East , Asia Minor , Caucasus , North Africa and east Mediterranean , though not until the reforms of Tiglath-Pileser III in the 8th century BC [ 3 ] [ 4 ] did it become a vast empire. Assyria was originally an Akkadian kingdom which evolved in the 25th to 24th Centuries BC. The earliest Assyrian kings such as Tudiya were relatively minor rulers, and after the founding of the Akkadian Empire , which lasted from 2334 BC to 2154 BC, these kings became subject to Sargon of Akkad , who united all the Akkadian and Sumerian speaking peoples of Mesopotamia under one rule.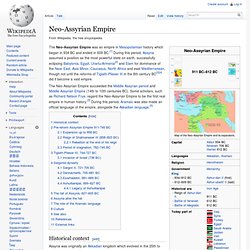 Neo-Babylonian Empire
The Neo-Babylonian Empire or the Chaldean Empire was a period of Mesopotamian history which began in 626 BC and ended in 539 BC. [ 1 ] During the preceding three centuries, Babylonia had been ruled by their fellow Akkadian speakers and northern neighbours, Assyria . Throughout that time Babylonia enjoyed a prominent status. The Assyrians had managed to maintain Babylonian loyalty through the Neo-Assyrian period , whether through granting of increased privileges, or militarily, but that finally changed in 627 BC with the death of the last strong Assyrian ruler, Assurbanipal , and Babylonia rebelled under Nabopolassar the Chaldean the following year.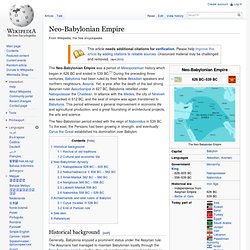 The Seleucid Empire ( pron.: / s ɨ ˈ l uː s ɪ d / ; from Greek : Σελεύκεια , Seleύkeia ) was a Greek-Macedonian Hellenistic state ruled by the Seleucid dynasty founded by Seleucus I Nicator following the carve-up of the empire created by Alexander the Great following his death. [ 3 ] [ 4 ] [ 5 ] [ 6 ] Seleucus received Babylonia and, from there, expanded his dominions to include much of Alexander's near eastern territories. At the height of its power, it included central Anatolia , the Levant , Mesopotamia , Persia , Afghanistan , Turkmenistan , Pamir and present-day Pakistan .
Seleucid Empire