Social gaming
Freemium Revenue Surpasses Paid App Revenue Among Top 100 Grossing Games, Flurry Says. Free-to-play games that earn revenue through in-app purchases have made a distinctive rise up iOS grossing charts over the past half year.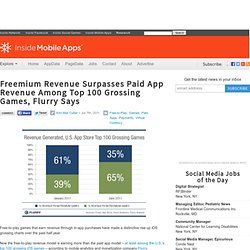 Now the free-to-play revenue model is earning more than the paid app model – at least among the U.S.'s top 100 grossing iOS games – according to mobile analytics and monetization company Flurry. Jeferson Valadares, who became Flurry's general manager of games after leaving Playfish, looked at the top 100 grossing games last month and in January. He analyzed each app's revenue model (e.g. whether the game was given away for free and whether consumers could purchase virtual currency in the app.). MTV to Develop Social Games Based on Shows and Characters. MTV Networks has just acquired Social Express, a social game development company, for an undisclosed amount.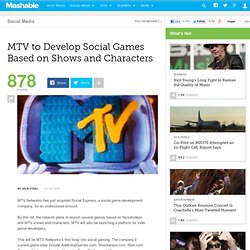 By this fall, the network plans to launch several games based on Nickelodeon and MTV shows and characters. MTV will also be launching a platform for indie game developers. This will be MTV Networks's first foray into social gaming. The company's current game sites include AddictingGames.com, Shockwave.com, Nick.com Games, Nick.com Arcade, Neopets, GameTrailers and Xfire.
The Year In Virtual Goods By The Numbers. Editor's note: Guest author Ted Sorom is the CEO of Rixty, a virtual currency platform.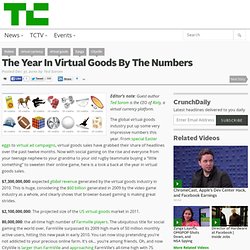 The global virtual goods industry put up some very impressive numbers this year. From special Easter eggs to virtual ad campaigns, virtual goods sales have grabbed their share of headlines over the past twelve months. Now with social gaming on the rise and everyone from your teenage nephew to your grandma to your old rugby teammate buying a "little something" to sweeten their online game, here is a look a back at the year in virtual goods sales. $7,300,000,000: expected global revenue generated by the virtual goods industry in 2010. This is huge, considering the $60 billion generated in 2009 by the video game industry as a whole, and clearly shows that browser-based gaming is making great strides.
Why Games Are the Killer App for Social Networks. Ravi Mehta is vice president of product for Viximo, where he drives the product strategy for Viximo's social game distribution platform and helps social networks monetize via social games and virtual goods.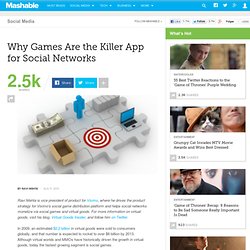 For more information on virtual goods, visit his blog, Virtual Goods Insider, and follow him on Twitter. In 2009, an estimated $2.2 billion in virtual goods were sold to consumers globally, and that number is expected to rocket to over $6 billion by 2013. Although virtual worlds and MMOs have historically driven the growth in virtual goods, today the fastest growing segment is social games. Playfish talks Facebook Credits | Casual games | News by Casualgaming.biz. Social Gaming Roundup: Zynga, News Corp, DeNA, & More. Electronic Arts Reports Q2 Results — Electronic Arts has reported its fiscal numbers for the second quarter of the year.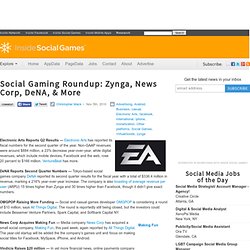 Non-GAAP revenues were around $884 million, a 23% decrease year-over-year, while digital revenues, which include mobile devices, Facebook and the web, rose 20 percent to $166 million. VentureBeat has more. DeNA Reports Second Quarter Numbers — Tokyo-based social games company DeNA reported its second quarter results for the fiscal year with a total of $336.4 million in revenue, marking a 216% year-over-year increase. The company is also boasting of average revenue per user (ARPU) 15 times higher than Zynga and 30 times higher than Facebook, though it didn't give exact numbers. OMGPOP Raising More Funding — Social and casual games developer OMGPOP is considering a round of $10 million, says All Things Digital. Le Japonais DeNA rachète Ngmoco pour surfer sur la vague du social gaming en occident. Average Social Gamer Is a 43-Year-Old Woman. Rightly or wrongly, many people have a picture in their minds of the average online gamer, and it probably involves someone not yet old enough to vote, huddled in their parents' basement killing dwarves with mystic powers in games like World of Warcraft.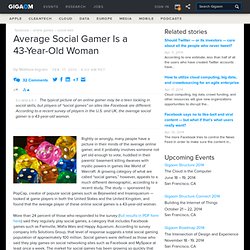 A growing category of what are called "social games," however, appeals to a much different demographic, according to a recent study. The study — sponsored by PopCap, creator of popular social games such as Bejeweled and Insaniquarium — looked at game players in both the United States and the United Kingdom, and found that the average player of these online social games is a 43-year-old woman. More than 24 percent of those who responded to the survey (full results in PDF form here) said they regularly play social games, a category that includes Facebook games such as Farmville, Mafia Wars and Happy Aquarium.
IGA Worldwide Strengthens Market Position with Additional Capital and New AAA Gaming Titles. This site uses some unobtrusive cookies to store information on your computer.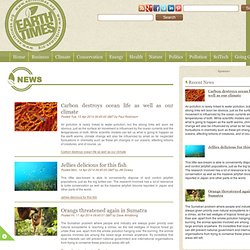 Some cookies on this site are essential, and the site won't work as expected without them. These cookies are set when you submit a form, login or interact with the site by doing something that goes beyond clicking on simple links. We also use some non-essential cookies to anonymously track visitors or enhance your experience of the site. If you're not happy with this, we won't set these cookies but some nice features of the site may be unavailable.Some cookies on this site are essential, and the site won't work as expected without them.
SupersonicAds Takes $2 Million for In-Game Advertising Offers. SupersonicAds Takes $2 Million for In-Game Advertising Offers Early in 2009, we got our first look at SupersonicAds, a European offers company that creates in-game advertising offers for users to earn virtual currency from.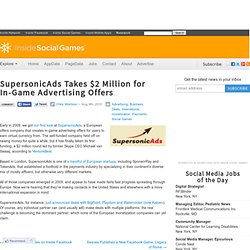 The self-funded company held off on raising money for quite a while, but it has finally taken its first funding, a $2 million round led by former Skype CEO Michael van Swaaij, according to VentureBeat. Games Market Monitor: Social Gaming in H1 2010. The social gaming market exploded in 2009.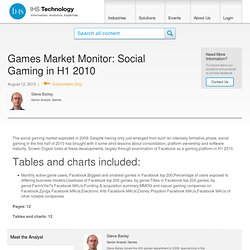 Despite having only just emerged from such an intensely formative phase, social gaming in the first half of 2010 has brought with it some strict lessons about consolidation, platform ownership and software maturity. Screen Digest looks at these developments, largely through examination of Facebook as a gaming platform in H1 2010. Social Gaming Market Begins to Mature. Social gaming revenues, which barely existed in 2008, have seen steep growth.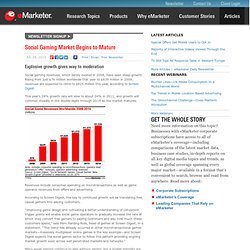 Rising from just $76 million worldwide that year to $639 million in 2009, revenues are expected to climb to $826 million this year, according to Screen Digest. This year's 29% growth rate will slow to about 24% in 2011, and growth will continue steadily in the double-digits through 2014 as the market matures. Revenues include consumer spending on microtransactions as well as game operator revenues from offers and advertising. According to Screen Digest, the key to continued growth will be translating free, casual gamers into paying customers.
Social gaming : les annonceurs prêts à investir. Farmville, Hotel City, Bola et leurs pairs ont le vent en poupe. Auprès des utilisateurs, des investisseurs, et désormais aussi des annonceurs. Selon une étude du cabinet eMarketer, les marques vont investir 220 millions de dollars sur les social games en 2010, puis 293 millions en 2011, en hausse de 60% par rapport à 2009. Pour eMarketer, le gros du marché restera encore aux États-Unis, avec 142 millions de dollars d'investissements publicitaires en 2010, contre 78 millions hors États-Unis. Mais la croissance y sera largement plus importante que dans les States : Le projet semble plus intéressant pour les annonceurs, qui pourront s'adresser à des cibles précises et engagées, que pour les éditeurs de jeux en ligne. Les marques vont investir 220 millions de dollars sur les social games en 2010, puis 293 millions en 2011. Vous le savez, IGA garde toujours un œil sur le social gaming, tant il est vrai que la « convergence » avec l'iGaming est de plus en plus souvent une réalité… Une nouvelle étude, citée par un blog du Figaro, montre que le social gaming séduit de plus en plus les annonceurs publicitaires.
Farmville, Hotel City, Bola et leurs pairs ont le vent en poupe. Auprès des utilisateurs, des investisseurs, et désormais aussi des annonceurs. Pinning Down Zynga's Revenues Is Like Playing Pin The Tail On The Bullet Train. One of the most exciting things to watch in tech these days is various groups' estimates for Zynga's revenues. Depending on what you read and on what day, they are all over the map. It's been that way for a long time too, because the social gaming service is simply growing so fast and monetizing the hell out of their properties. Now that we're more than halfway into 2010, the consensus seems clear that Zynga made about $300 million in revenue in 2009. Inside Social Games - Tracking Innovation at the Convergence of.
We Estimate Zynga Revenues Around $270M In 2009 And $240M In 201. This is a guest post by Jeremy Liew, a managing director at Lightspeed Venture Partners where he invests in the internet and mobile sectors. His investments include Flixster, Living Social, Playdom, Rockyou and Shoedazzle. He blogs at lsvp.wordpress.com. There has been a lot of speculation about Zynga's revenue.
---