Outdoors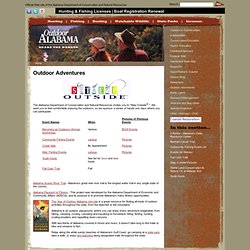 The Alabama Department of Conservation and Natural Resources invites you to "Step Outside ® ." We want you to feel comfortable enjoying the outdoors, so we sponsor a series of hands-ons days where you can participate. Alabama Scenic River Trail - Alabama's great new river trail is the longest water trail in any single state of the country.
Alabama Outdoor Adventures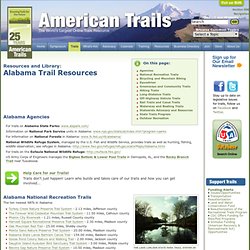 American Trails: Trail Resources in Alabama
November 5, 2011 — New Project on the Alabama Trail - public meeting Huntsville, AL The Alabama Hiking Trail Society, a statewide non-profit hiking and trail building organization, is holding a public meeting Saturday November 5th from 9:30am to 11:30am at the main branch of the Huntsville Public Library on Monroe Street to discuss a new project - the Alabama Trail, a 550-mile long wilderness footpath from the Alabama Gulf Coast to Tennessee. The meeting will focus on trail building efforts in the Tennessee Valley and the impact the trail will have on the region.
Natural Pools or Natural Swimming Ponds (NSPs) Let nature clean the water... Chemical-free water garden and swimming pool. The plant portion, or regeneration zone, is separated from the swimming area by the wall seen a few inches below the water's surface. www.naturalswimmingpools.com