Inspiration
Get flash to fully experience Pearltrees
by Maria Popova Macaroon vs. cupcake, Proust vs. Salinger, bobo vs. hipster, bordeaux vs. cosmo. For the past two years, graphic designer Vahram Muratyan , a self-described "lover of Paris wandering through New York," has been chronicling the peculiarities and contradictions of the two cities through "a friendly visual match" of minimalist illustrated parallel portraits.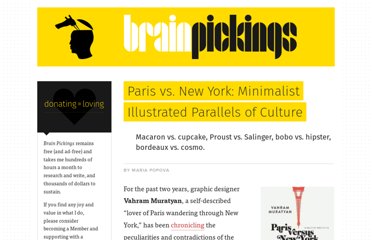 In 1933, renowned author F. Scott Fitzgerald ended a letter to his 11-year-old daughter, Scottie , with a list of things to worry about, not worry about, and simply think about. It read as follows. ( Source: F. Scott Fitzgerald: A Life in Letters ; Image: F. Scott Fitzgerald with his daughter, Scottie, in 1924. )
by Maria Popova A vibrant mid-century homage to one of the most beloved children's books of all time. It's no secret I have a soft spot for obscure vintage children's book illustration, especially by famous artists or of famous works .