Outils en ligne pour manipuler des images
FotoFlexer. FlauntR. FlauntR flauntR is a free online suite of digital photoediting tools that provides a range of features that are typically only been available in expensive photoediting software.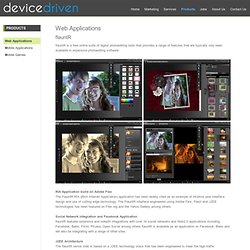 RIA Application build on Adobe Flex The FlauntR RIA (Rich Internet Application) application has been widely cited as an example of intuitive user interface design and use of cutting edge technology. PhotoFunia. Aviary. PicMagick. Splashup. Pixlr. Kizoa. Picnik.
---